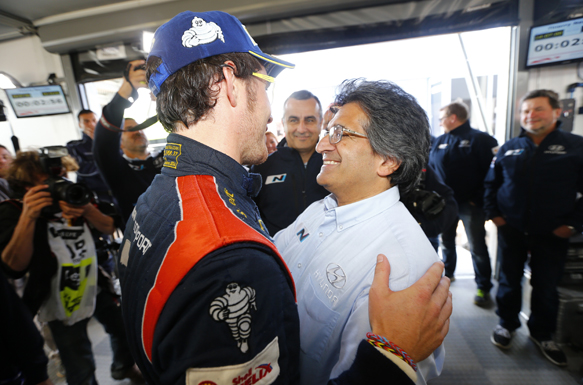 Hyundai team principal Michel Nandan says the team will remain grounded in its ambitions for the rest of the World Rally Championship season, despite its Rally Germany 1-2.
Thierry Neuville took an unlikely victory in Trier, the Belgian having started the event by rolling his i20 WRC six times during shakedown, with teammate Dani Sordo second.
Nandan insists the team will not be distracted by its breakthrough in Germany.
"This result doesn't change us; our feet are going to stay on the ground," he said. "We know we have a lot of work to do still and we continue with our programme to make progress."
Talking about future ambitions, Nandan added: "We came to Germany realistically fighting for a podium and that's great progress for a team which arrived at the start of the season. We will keep pushing and fight to be on the podium."
Hyundai has more upgrades coming, with more performance expected from engine mapping changes in time for the Rally of France in October.
After the crew had sleepless night fixing the car on the eve of the rally, Neuville said his win was the perfect way to pay the tired team back, even if he thought his rally might have been over before it started.
"It was unbelievable," the Belgian said. "When it was happening I feared it might be the end [of the rally]. But once I was out of the car and able to have a look at it, I thought we could get it fixed.
"The team had to work so hard; what the boys achieved is just incredible. This is the perfect way to pay them back."