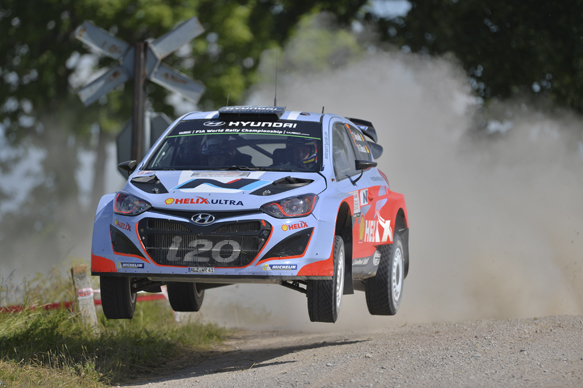 Hyundai will start next season with its current i20 WRC as its much-anticipated new World Rally Championship contender might not arrive until mid-2015.
The Frankfurt-based team has stunned the WRC with the pace of its development of the i20, a car that only turned a wheel in testing for the first time a year ago next week, but it will not be rushed on the replacement.
Hyundai is continuing the development of the current car, with engine modifications coming in Finland later this month and again in October, while simultaneously working on an all-new 2015 car.
Talking about the launch of next year's car, team principal Michel Nandan said: "We don't know when the new car will come yet next year, because we didn't do the first test yet. We need to see how the car is developing because we don't want to introduce the car and then be in trouble.
"We want to be sure, so we will only introduce the car when we are sure that it is better than this one."
The new i20 road car is expected to be launched at October's Paris motorshow. Nandan confirmed the team had taken delivery of a bodyshell and expected the car to be running soon.
"We have the shell," he said, "but we are still getting some more parts. We assume the first roll-out for the new car will be sometime in the summer."
Hyundai's lead driver – and scorer of both its podiums for this year – Thierry Neuville said it was right to focus on the 2015 i20.
"We are working on this year's car still, but the most important thing is our car coming for next season," he said. "This is the one which has to be strong and with good performance. It should be ready for the middle of [next] year."