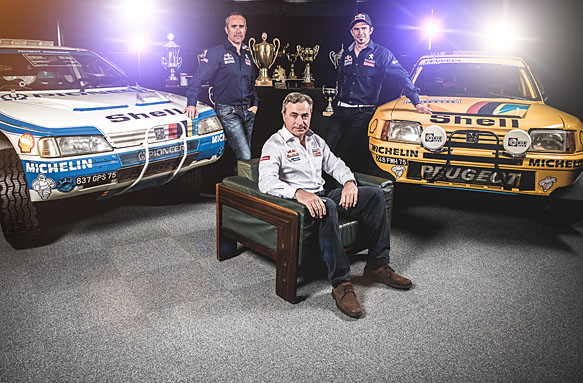 Peugeot teammates Carlos Sainz and Stephane Peterhansel will be free to fight each other for victory when the French firm returns to the Dakar Rally next year.
Peterhansel spoke out during the 2014 event after he was told to hold station despite closing to within 20 seconds of X-raid Mini teammate Nani Roma. At the time the Frenchman spoke of his frustration at missing out on a possible 12th win on the marathon event.
It wasn't long after finishing second to Roma on this year's Dakar that Peterhansel – chasing a 12th Dakar victory – agreed to switch from X-raid to a factory Peugeot, a deal that was announced this week.
Despite his respect for the Sainz, Peterhansel says he doesn't fear him in competition.
"I am well aware that Carlos will be a fierce rival," he said. "But I've always had teammates of a high caliber and who have previously triumphed on the Dakar, so it really doesn't concern me."
Sainz added that having two top drivers in the Peugeot lineup will increase the pressure at next year's event.
"Stephane's an extremely positive addition," said Sainz. "He knows the Dakar like the back of his hand, and he will be able to teach both the team and myself a great deal.
"Of course, his arrival puts me under a bit more pressure, but that will only serve to inspire me to strive for new heights."
Peterhansel admitted his decision to join the French firm was made easy by Peugeot's history on the event and the presence of two-time World Rally champion Sainz.
"I was a fan of Carlos for a long time back when he was competing in WRC," he said. "And after that, he impressed me by successfully transferring his talents over to cross-country competition. Now, I feel very proud to be in the same team as him."