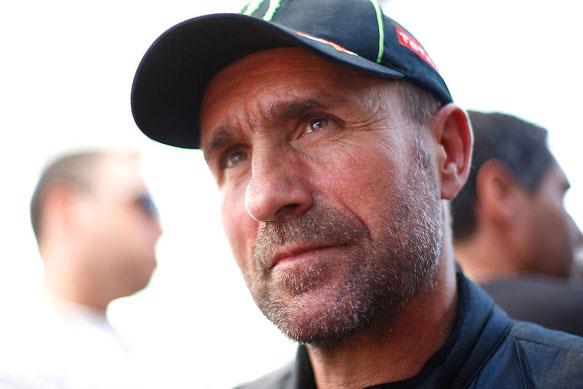 Eleven-time Dakar Rally winner Stephane Peterhansel will join Carlos Sainz and Cyril Despres in Peugeot's lineup for the car maker's return to the event in 2015.
Peugeot, which dominated the Dakar in the 1980s with four victories with its 405 T16, announced earlier this year that it is returning to the Dakar with its new 2008 DKR, unveiled in April. Peterhansel had already been linked with the drive, but the Frenchman was still under contract with X-raid, with which he won the Dakar twice in five years.
X-raid confirmed on Monday the termination of their contract by mutual consent.
"After five years of successfully working together and two Dakar victories in total, I want to take on a new challenge," said Peterhansel. "I very much thank [team boss] Sven Quandt and all the employees of X-raid for the successful years in which I had the opportunity to drive the Mini."
Peterhansel has won the Dakar five times in the car category and six riding bikes.
"Stephane's an extremely positive addition," said Sainz. "He knows the Dakar like the back of his hand and he will be able to teach both the team and myself a great deal. Of course, his arrival puts me under a bit more pressure, but that will only serve to inspire me to strive for new heights."
Peterhansel, 48, will have his regular co-driver, Jean-Paul Cottret, when he moves to Peugeot.