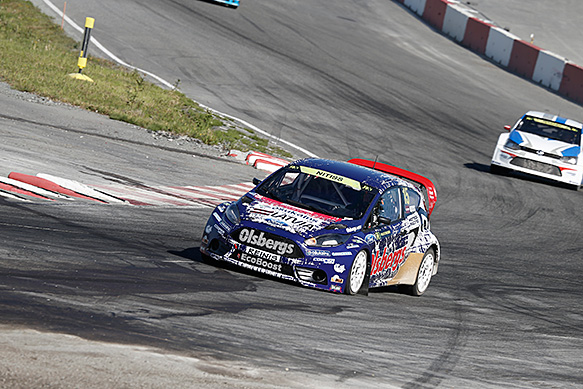 Latvian Reinis Nitiss stormed to his first Supercar victory in only his third event in the World Rallycross Championship at Hell in Norway.
The OlsbergsMSE driver started on the inside of the front row and led into the first corner followed by Timur Timerzyanov, while home hero Petter Solberg dived straight into the joker lap.
Just behind the Norwegian, Timmy Hansen, Henning Solberg and Ken Block piled into the joker section, Hansen leaving a small gap into which Solberg dived with his Saab 9-3. Hansen was forced wide and succumbed to steering damage, while Block cleared the older of the Solberg brothers.
Nitiss pulled away at the front front while Timerzyanov started to struggle on overheating wet tires, the rain of the semi-finals drying out fast for the final.
The Russian took his joker on lap four and dropped to fourth behind Petter Solberg and Block, while Nitiss left his joker until the final tour, returning to the main circuit ahead of Solberg to hang on and earn his maiden victory to lead the championship standings.
Petter Solberg finished second, with Block, making his debut in the series, in third.
Henning Solberg suffered a broken rear suspension, which collapsed as he crossed the finish line in fifth, while Timmy Hansen finished sixth.
"This is amazing, it was so hard to drive in the final in front of two stars," said Nitiss. "It's the 15th of June and I have 15 on my car, so it's a good day. I can't describe how happy I am."
Championship leader heading into the event, Andreas Bakkerud had a difficult weekend and did not make it out of the semi-finals.
Mattias Ekstrom and new teammate Pontus Tidemand ran the new EKS Audi S1 Supercar.
Despite showing strong pace, neither made the final stages, while former F1 champion Jacques Villeneuve just missed out on a place in the semi-finals after picking up a puncture in heat four.