F1: Mercedes' Lowe says FIA should make fuel rules tougher, not easier
Date:
Thursday, 10 April 2014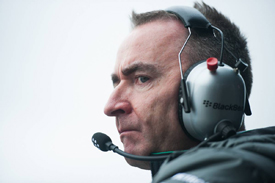 Related Stories
Related Stories Mazda Motorsports
Related Stories Formula 1
Mercedes executive director Paddy Lowe says Formula 1's chiefs should be pushing to make life tougher for teams with the new fuel rules, rather than considering tweaks to help out those who are struggling.
The Bahrain Grand Prix weekend was dominated by talk about potential rule changes by either increasing fuel limits or shortening races, to help more teams race flat out. Although the FIA confirmed that nothing would happen unless there was unanimous support, there remains the chance that efforts may be made to revise matters for 2015 if a majority back it.
Lowe, however, thinks it goes against the very nature of F1 to try to make life easier for teams, and he thinks the sport would actually be better if the rules were tougher.
When asked about the possibility of there being increased fuel allowance in 2015, Lowe said: "I don't think that makes sense. F1 is about delivering technology, and setting stretched targets.

"I would say by good judgment rather than good luck – the 100kg for the race and the 100kg/h are perfectly judged numbers. Because if the team that wins the race is racing on those limits, and not having to do unusual amounts of fuel saving, then that is a perfect judgment.

"If that is a stretch for other cars, that is a stretch they should be reaching out to. The nature of F1 is to push technology to the limit and beyond. And that is what we have got.

"So to back out of it next year is absurd. If anything, the point of F1 would be to stretch it further – and maybe next year it should be 95kg for the race. This was the original concept."

TWEAKING RULES UNREALISTIC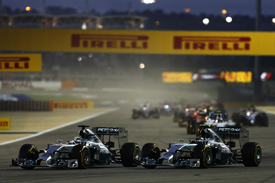 Lowe also said he could not comprehend some of the rules changes that had been suggested for introduction this year, following complaints from Ferrari about the lack of F1 spectacle.

"There have been things talked about in the last few days that are just completely unrealistic, that I cannot even understand," he said. "The first suggestion was that we need 110kg of fuel. But has anybody realized that you cannot fit 110kg in these cars?
"So then they said, 'Let's make the races shorter.' Can you imagine selling that concept to the public? It would be like we have decided that athletes are not fit enough these days, so the marathon is only going to be 25 miles rather than 26 miles.

"The messaging around that cannot be contemplated. I hope all of that can be put behind us and all this talk of ridiculous fuel saving or whatever stops."

Lowe is adamant that the level of fuel saving that Mercedes is running in 2014 is no different to how it was in the past.

"The degree of fuel saving we had to run in Bahrain, despite the fact these guys were racing from beginning to end, was a completely normal level of fuel saving," he added. "Racing here last year, we had a strategy last year that involved some fuel saving in the race because that is optimal. It was pretty much the same this time.

"I don't know how it is for others. But if they are not finding it in the same place, then it means they haven't got an efficient package. And this formula is about efficiency. That is the objective – and if you can deliver it, you can deliver a good result."