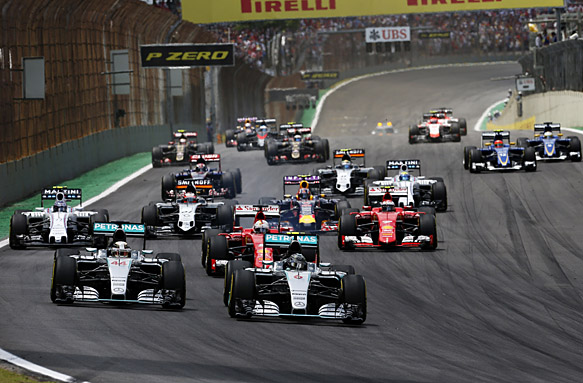 The Formula 1 Commission has voted not to pursue the idea of an alternative budget engine at this stage, according to governing body the FIA.
The cost of a customer supply, believed to be in the region of 20million euros ($21.2m), has been a cause of concern since the new 1.6-litre V6 engines were introduced at the start of 2014.
Since Ferrari vetoed plans last month to cut the cost of customer engine deals from around 20million euros to 12million euros ($12.7m), the FIA and Bernie Ecclestone proposed a cheaper alternative, with performance equivalence to ensure a level playing field.
Earlier this month, the FIA asked for expressions of interest to supply a budget engine and it has emerged there are four "credible" proposals, two of which are believed to be AER and Ilmor.
However, following a meeting of the Strategy Group in Paris on Tuesday, followed by an F1 Commission meeting, the idea has now been put on the backburner. Instead, the manufacturers - working with the FIA - will produce a proposal by January 15 2016 that provides solutions to concerns over the power unit, which will focus on:
- Guarantee of the supply of Power Units to teams
- The need to lower the cost of Power Units to customer teams
- Simplification of the technical specification of the power units
- Improved noise
The FIA added that the decision to not pursue the budget engine may be reassessed after the manufacturers have presented their proposal to the Strategy Group.
Within the proposal, there will be a rule that stipulates a minimum number of teams a manufacturer must supply, ensuring all teams have access to an engine. It is hoped these developments will be ready for the 2017 season at the earliest and certainly in time for 2018.
The first meeting between the FIA and the manufacturers with regards engines will take place at this weekend's Abu Dhabi Grand Prix.
Welcome to the Robin Miller Mailbag as presented by Honda Racing / HPD. You can follow the Santa Clarita, California-based company at http://hpd.honda.com/ and on social media at @HondaRacing_HPD and https://www.facebook.com/HondaRacingHPD
Your questions for Robin should continue to be sent to millersmailbag@racer.com We cannot guarantee we'll publish all your questions and answers, but Robin will reply to you. And if you have a question about the technology side of racing, Robin will pass these on to Marshall Pruett and he will also answer here.

Q: Noted you posted my comments in the Mailbag. Slim pickings, eh? Another example of the long off-season's effect on the series: out of sight, out of mind. Anyway, sorry my posting was not more clear. When I said your comment angered me, what I found irritating was that you pointed out how the Fontana race had generated some buzz for the series and likely had a positive impacted on ratings for the balance of the races. If a race can do that when we need all the exposure we can get in mainstream media, that event should be a no-brainer, attendance or whatever else be dammed. Indy, Pocono and Fontana are three awesome and diverse super-speedways – there is your Triple Crown. And we should have a day of national mourning for Milwaukee, BTW. I do wonder though why Texas has been a bit of a snooze-fest the last few years when Fontana continues to be so exciting. Is the aero that different? Makes me wonder how this car would race in Michigan?
Sean Ogilvie
RM: No worries, thanks for taking the time to write. It's too bad IndyCar didn't see the value in the Triple Crown, at least trying to find a proper sponsor, and staying in Fontana with a fall date that worked for the track. There is no arguing that last summer's race helped drive up the TV ratings and interest for the rest of the season but the grandstands were empty and I don't blame Auto Club Speedway for digging in about an October race. As for Texas, it's been a clunker the past few years because of the combination of the aero package and tire degradation. Less downforce and lots of green-flag laps really strings out the field. Even the last "good show" when Justin Wilson took advantage of Graham Rahal's late slip into the wall had been a clunker because Scott Dixon was long gone before he crashed. MIS would all depend on the aero package.
Q: Just finished reading the interview with Jay Frye. I just hope that he reads some of your old emails that tell about Brian Barnhart's incompetency when he was director before naming a new race director. Under no circumstance should he name TGBB as race director. He also should eliminate the ruling by committee. The best-run races were when Beaux Barfield was in complete control. I know some did not like his rulings but they were made just after the incident and not days later. TGBB rulings were out of the hat and best guesses. I am afraid Frye is looking at TGBB as race director, just based on reading his interview and saying they have qualified people on board. TGBB was on his way out under Randy Bernard but Randy got fired before that was completed – what a shame. Do you have any inside info as to which person TGBB has by the cojones so that he keeps coming up in positions of authority?
Dick Klein, Torrance, CA
RM: My understanding is that Race Director and Chief Steward are different jobs and it sounds like it's still going to be ruled by a vote of a committee – hopefully composed of ex-drivers. I'm with you in that one person needs to make the call and I thought Beaux did a good job but he and Derrick Walker never saw eye-to-eye. Barfield was very complimentary of Barnhart's running of the driver's meetings and he will maintain that position but not be the Chief Steward. Hopefully, it will be somebody like Al Unser Jr. who would have immediate respect with the drivers.

Q: Every May I run into Leo Mehl and ask him when he is going to write a book. He doesn't seem too interested so maybe you could persuade him. If anybody needs to write a book, it's Leo!
Rusty Lewis
RM: Considering he ran Goodyear's F1 and Indy programs, yes, he's got some great stories – just not sure he'd be willing to share them all with the public. Leo is kind of a private person anyway, so I doubt anyone could persuade him.
---

Q: I'm p***ed off about the IndyCar schedule, with regards to the Iowa weekend. The most successful venue for that track has been hot days, cool nights, short-track style racing. It's been thrilling to say the least, and has branded itself as a unique event, with fans to support it. I've been to a race there every year since the track opened, except one. In 2016, they've scheduled it for Sunday frigging night!! What the hell? What are they thinking? I'm not a conspiracy theorist, but red flags go up when I realize NASCAR purchased the track last year. Do you think they're trying to ruin IndyCar's success with the track and hog it all for NASCAR events? I mean, it is a very popular track around here for all events, but having it all to NASCAR events would make it even more profitable. Looking for your unfiltered thoughts.
Jeff L., Des Moines, IA
RM: No conspiracy theory, it looks like a simple maneuver for television. NASCAR runs Kentucky on Saturday night, July 9, so that will be live on NBCSN and that gives IndyCar the Sunday evening time slot on NBCSN. The obvious fly-in-the-ointment is if it rains on Sunday night.
Q: Now that Frye has fancy new position, he's been interviewed unlike when he was in the background. Upon reading those interviews, the impression I get is that he's going to be one slippery son of a gun, because he never answers a question directly. Just misdirection and babble. The true signs of someone who's over his head and incapable of being effective. I hope I'm wrong. You must have had dealings with him since he's been around IndyCar a while – what are your impressions?
Rick in Toronto
RM: As I wrote, Jay can BS with the best of 'em and that could be a valuable ally in his new job but one man cannot "save" IndyCar. It needs a makeover and a new culture but I don't see that coming in the near future. Frye knows a lot about the business of racing and that's valuable but, as I've said, he needs a couple of key lieutenants for rules, aero kits, new cars and the daily power plays inside the paddock because that's not his expertise. I just hope he doesn't get overwhelmed.
Q: I was a little disappointed that Honda is being allowed to upgrade their aero package for next season. Good for the sport, but why penalize Chevy for getting it right? What if Honda comes in next season and blows Chevy out of the water? Would Chevy then be able to react? Perhaps an answer could be Chevy having access to Honda's improvements if they prove to be 'too good' after the season starts. Chevy would then have the option of adapting anything Honda comes up with for themselves. Another question. F1 this time. Is anyone really surprised that Honda has been so bad with McLaren this year? After all, they re-entered the series well after all the other teams had a huge head start with new rules regarding powerplants. Does anyone believe that Honda won't come back charging next year and perhaps in two or three years be kicking everyone's collective asses again?
When is St Petersburg? March? Jeez!
Bill Phypers, Brewster, NY
RM: Both manufacturers agreed on giving each other a chance to catch up but the rub is that Chevrolet doesn't feel like it's got an insurmountable advantage even though the statistics are pretty telling. The problem is that IndyCar couldn't afford to lose Honda and it also can't afford to p**s off General Motors so what happens next is a slippery slope. I can't offer much wisdom on Honda of Japan in F1 but in the CART days it was tough to out-work them. After getting its butt kicked in 1994, Honda roared back to dominate from 1996-2001 and after a slow start in the IRL it kicked ass. So I would imagine things will turn around over in F1 as well because of that Honda culture. By my calculations, it's only 106 shopping days until practice begins at St. Petersburgh.
---

Q: I see a lot or requests or suggestions from IndyCar fans to reduce the downforce and increase the horsepower. Didn't CART do this in the last few years of the 1000HP engine war? If memory serves me right, the rules package kept reducing the size of the wings and at one point, they were running super-speedway wings at the short tracks (Nazareth, Gateway, Milwaukee and Chicago ABOVE) and drastically reducing the underwing tunnel exits at Michigan and Fontana. During those races, the passing become non-existent. I'm not a mechanical engineer, but perhaps someone (Mike Hull?) has the downforce data from both eras and could weigh in on this? I would hate to see the close racing that we have go away, just to watch a parade on the short ovals.
Matt Fraver, Columbus, OH
RM: Mike Hull was kind enough to respond: "First, in total agreement that the close racing is full of entertainment. The skill set to race close is also dependent upon the trust that drivers have for each other. The cornering speeds of the cars can be altered by IndyCar tweaking of the aero package, as we have seen, to effectively change the race balance. If they get it right (and normally do), it's still really good two-abreast racing. If over-downforced in combination with tires that maintain grip for an entire run, you will see what happened at Fontana.

In 1999 when we ran the speedway wings at short ovals even with the big tunnels, we were at exactly half of the downforce level we have available now. The mid-corner speeds were significantly reduced but the lower drag of the wings meant the speeds at the end of the straights were higher – going over 200mph into T1 at Phoenix in testing – (in testing, we are at 185mph with the current car) – with only a small amount of downforce to try and handle the corner. The CART races in this low-downforce spec at times became processional as with the additional loss of downforce by being greatly affect by the wake of the car in front. There was not enough grip to make a pass even with almost twice the HP that we have now. The only way this low downforce level of racing would work is if the level of grip was so low that tire degradation became significant (like we have now at Texas) with the result that the difference between new and old tires creates the overtaking opportunities."
Q: I was thinking: why doesn't IndyCar adopt a set of rule similar to that of the WEC P1 cars? A pool of engine and chassis/aero manufactures and let the team owners pick what they want and then have a balance of performance to make the cars more equal? Or if biggest problem is the aero packages, why not use the same car and a choice of engine, opposite of the new for 2017 P2 regulations? I know to run P1 in WEC it can cost near as much as F1, but make it cheaper and but keep the same general idea.
Ian Janos
P.S. I have been writing to since I was in middle school (now in college) and I have always enjoyed reading your responses.
RM: IndyCar had the most balanced playing field in motorsports in 2012-13-14 with 29 different winners in 52 races and last year, despite Chevy's dominance, still had nine different winners in 16 starts, albeit only four were Honda-powered drivers. But Honda and Chevy wanted their own identity and got it, so I don't see any kind of pool working. Plus, here's no line to come play anyway.
Q: Will you be reporting on the indoor midget races at PRI, Performance Racing Industries trade show? Will any full-time Indy drivers be there, or will they be too busy driving imaginary racecars, on their laptops, to drive real racecars, in the Bankers Life Fieldhouse?
Chris, Colorado Springs
RM: You mean the 'secret' indoor midget race that nobody seems to know anything about? Not sure I'll be going, haven't received one press release or inquiry about credentials. I know Gabby Chaves would love to participate, but it was by invitation only so I imagine that cuts him out.
---
Q: I just turned off the TV because I couldn't watch the Race of Champions. It's amazing to see the best drivers of multiple disciplines race each other. But in a stadium? They were so slow, it was terrible.
So I remembered the Paris-Bercy Masters, a kart race held in Paris in the 1990s, where top F1 drivers faced guests from IndyCar and sports cars. I only have a French magazine and internet videos, but I'm sure it was an amazing show. Then I thought: United States is home of the All-Star games, why don't you host an all-star kart race? Well, last September it was the Dan Wheldon Memorial Pro-Am Karting Challenge. But it's Pro-Am rather than All-Star, it had IndyCar drivers only, its held somewhere in eastern Indiana, and it's not even televised.
A proper All-Star Karting Challenge should have Dixon, RHR, Hélio, Rahal and Andretti and Newgarden, but also Earnhardt, Jeff and Robby Gordon, the Busch brothers, the Taylor brothers, Danica, Scott Speed, Ken Block and Pastrana. Hey, there could be a supermoto race too, with Valentino, Márquez, Lorenzo, Pedrosa, Hayden, Taddy Blazusiak, Cody Webber and Chad Reed. It should be held at the Lucas Oil Stadium, Ford Field or Superdome. It should air live on NBC and the Saturday before the 24 Hours of Daytona, where there's no NFL. And it should be aired in Latin America on ESPN (IndyCar, MotoGP) or Fox Sports (F1, NASCAR).
Ignacio, Uruguay
RM: The annual go-kart race at Mark Dismore's track in New Castle, Indiana is damn good racing between a lot of the IndyCar guys and assembling a field like you suggest would take a lot of money. The race in Brazil that TK, Helio and JPM usually run combines F1 and IndyCar and sports car drivers so that puts the Race of Champions on the trailer in terms of star power and competition. I agree with you, watching last week's ROC was a snoozer. Much like Homestead.
Q: Rumor has it that Audi installed autonomous controls in a couple of their race cars and ran them at Sonoma, and the autonomous cars posted faster times than the driver controlled cars! Extend that notion to Indy and it gets somewhat problematic for our heroes: 33 driver-less cars taking the green flag ... to empty grandstands because all the Gen X-ers are watching the live stream on their iPhones at home. If you were a giant multinational corporation who had invested in technology how would you spend your sponsorship dollars?
Jim Scott, Wisconsin Rapids
RM: Not sure about sponsors but think of the money an owner would save – no salaries, no bonuses, no per diem, no first class airfare tickets and no agents. And the engineers could do whatever they wanted with no talkback or resistance. I'd say let's not give anybody any ideas.
Q: Considering his dominant Euro F3 championship, and his second win at the Macau GP, Felix Rosenqvist's stocks are sky-high at the moment. He says he want to do GP2, but he's had offers from the USA. Anything you could shed the light on? How many seats are there left to fill on 2016 IndyCar grid? Anyway, keep an eye on Rosenqvist, he'll be bigger than Kenny Bräck!
Jacob in Sweden
RM: I emailed Brack and here's what The Meatball had to say about his young countryman: "I think Felix is good but its hard to say how good he is in a fast car until he gets to drive one. F3 is F3 and not that representative to IndyCar or F1." A little update on the 1999 Indy 500 winner, he's living in London and working for McLaren as a test and development driver in its sports car division.
Q: Why is there more passing for the lead in IndyCar than NASCAR?
Jim Overmeyer, Islip, NY
RM: That's a good question but I guess the simple answer is that spec cars should produce closer racing and IndyCar teams are limited in what they can modify or experiment on the cars so that also helps close the gap. And the DW12 is a damn racy car on ovals, street circuits and road courses equally. Even though Chevy had the edge in aero kits in 2015, it was still impossible to predict the winner in any race. But you'll be hard-pressed to find more passing for the lead (on the track) than there was at Indy, Fontana and Pocono. I guess you have to credit the drivers, the teams, the cars, the tires, the engines and the aero packages.
Q: It's interesting to hear a lot of IndyCar fans wanting COTA, but after reading RACER's story this morning, how can they even afford the IndyCar fee with the Texas funding gone? And do you think F1 at COTA will now be gone? Thirty-three million, that's a lot of money.
Mark Fellows
RM: Without knowing the inside story, it appears Bernie's blood-letting could claim another casualty and IndyCar is obviously a lot more affordable option. But would IndyCar draw what F1 did? Can COTA survive without the support of the state? It amazes me anyone still wants an F1 race because the economics are so skewed against them.
---

Q: I watched 'Winning: The racing life of Paul Newman' on Velocity the other night, and I recommend it to anyone interested in racing or PLN (ABOVE). It got me thinking about non-racers, mostly actors, who attempted to drive and how good some of them were. Certainly people of our age, Robin, know about Newman, James Garner, and of course Steve McQueen. I know Newman and McQueen had success in the pro ranks and I know Garner had a race team (if you get a chance to see his movie about his team, it is worth seeing) and he was the only actor that did his own driving in Grand Prix. I know Tommy Smothers was a racer as well. Later on, Bruce Jenner had a credible racing career and had pro wins, and younger folks will remember Frankie Munoz giving it a try and Jason Priestly, who was doing a good job before his big crash. Now we have Patrick Dempsey and he has proven to have the right stuff. My question is, who do you think is the best of the pack that tried racing, and who do you know that was good that I left out? I am thinking four national championships and a class win at Le Mans is going to be hard to beat.
Tom in Waco
RM: It has to be PLN hands down, although McQueen was decent on dirt bikes and Smothers ran Formula 5000 or Formula A and was credible. James Dean evidently had some chops in sports car racing while Gene Hackman tried sprint cars in Danville, Ill. and Kent McCord of One Adam 12 fame ran little sedans and sports cars for many years and did OK. Munoz was making strides before he quick and Priestley nearly died in an Indy Lights cars, but Priestley seems to have had the right stuff like Newman.
Q: Any book recommendations for this holiday season for us racing fans? Can you recommend the new 'The Indy Car Wars' book by Sigur E. Whitaker? Research shows that you are quoted in that book.
Frank, Minneapolis
PS: A big thank you to your readers a few months ago for mentioning that the 'Gonchi' movie was on Netflix.
RM: I'm going to do another Christmas present video in early December like I did last year, so I won't give it away yet. But I've never heard from or met the author of Indy Car Wars so I'd be a bit skeptical. An IndyCar mechanic pal of mine said he read the book she wrote on Tony Hulman and it was full of mistakes.
Q: I hope you won't mind me writing to your Mailbag address with a bit of old Indy-related info again (previously about Jim Hurtubise and A.J. Foyt running a Corvette together at Sebring in 1963). Here is a photo and comment thread about Eddie Sachs driving an unlimited hydroplane in 1963. It is on the 'Vintage Hydroplane Lovers' Facebook group.
From what I can find, it was his only unlimited-hydro race, although he had hoped to run more. The boat, Such Crust IV, was unusual for being powered by two Allison V-12 engines – each 1,710 cubic inches, supercharged, 1,500 hp stock, 2,000 hp or more race-tuned, depending on how well set up. Most unlimiteds in the '60s had one Allison V-12 or one Rolls-Royce Merlin V-12. The Merlins were more powerful, usually, as had been the case when the two engine types had been used in World War II fighter planes.
Glenn Marston, Bushnell, Florida
RM: Very cool, thanks for sharing with the Mailbag readers. Sachs was as brave as they came and A.J. Foyt ranked him highly as a driver. Obviously, the late Salt Walther ran Hydroplanes but not sure I know of any other Indy 500 vets that tried.
Q: Is there any co-development between the Honda IndyCar aero kits (front wings) and what McLaren are doing? The showed a close up picture of the McLaren Honda front wing and it look similar to the IndyCar wing.
Jim Doyle

Hoboken, NJ
RM: I'd be surprised, but you never know since Nick Wirth has worked on both sides of The Pond.
Q: We have seen NASCAR make changes to the chase to possibly help a certain driver so are we going to see Brian France break Junior's leg at Daytona next year? I am sure DW would be glad to help him. Also, is it me or was Brian's speech when handing over the trophy a little uninspiring? Congrats to Kyle, showing once again as everyone knows, no good drivers have come from the west coast...oh wait.
Miffed Mike
RM: I didn't watch the post-race celebration but Brian isn't known for his public speaking prowess. Busch made a helluva comeback and has been championship material for years. But I hate the fact you can miss that many races and still be the champ – it should be about your performance for the whole season. To think Kenseth, Logano, Keselowski and Johnson had no shot at the title despite all their success is simply unprofessional. It's all Hollywood but everyone makes so much money why bitch? Most don't.
A lot of news, developments, and action took place during two days of IMSA WeatherTech SportsCar Championship testing at Daytona last week. Here's a quick rundown of the major items of interest:
• Talk about awkward Thanksgiving dinner table conversations. Corvette Racing crew chief Dan Binks was the proudest father on pit lane when his son Phil arrived at Le Mans as a mechanic with the Nissan LMP1 team in June. RACER did a story on the father-son combo at the time, and with Phil's recent move to the Ford Chip Ganassi Racing team, the pride has certainly increased, but with the new Chevy-vs-Ford dynamic in mind, father and son have now become archrivals in IMSA's GT Le Mans category (LEFT, Marshall Pruett photo).
"It's so great for him, and he's come so far," said the elder Binks. "It's great seeing my boy get hired by a team like Ganassi, but we can't exactly talk shop anymore..."
Phil was back at CGR's shop during the test, but it didn't stop his father – or other members of the Corvette team – from prodding the lad. "He's worked with us in the past at Corvette Racing, so he's like a little brother to a lot of the guys here, and we couldn't be more proud of him." Binks was barely able to finish his sentence before one of the Corvette mechanics warmly added, "And we can't wait to kick his ass..."
• CORE autosport tested a new, softer rain tire from Continental on its ORECA FLM09-Chevrolet PC car, and from the team's feedback, more work will go into a new tire for the Rolex 24 at Daytona. The tire tested by CORE was said to be too soft, and did not evacuate as much water as was hoped during the bouts of hard rain that fell during the test. It's believed the revised Daytona rain tire will only be made available to PC and P2 teams, which has led to an appreciable level of grumpiness in the Daytona Prototype camp. A new, post-Daytona rain tire is expected for PC, P2, and DP.
• The purpose for the Daytona test was to give IMSA a chance to benchmark performance levels for all of its cars, to try various Balance of Performance adjustments to gauge the lap time increase or decrease, and to evaluate the separation in speeds between the four classes. The first item is the one that drew more attention than any other as some (but not all) teams pushed hard during the test, while others left a bit of performance on the table. The most fun part was listening to teams that claimed to run at 100 percent, and then declare they knew their rivals were holding back. The team in the next garage would say the same thing, etc., creating a lovely scenario where seemingly everybody was running flat out and sandbagging...
• Continuing the tire theme, Michelin made one set of its buttery-soft tires to its GTLM teams to run for the first time at Daytona. The "low energy" Michelins were introduced mid-season, and offer a significant reduction in lap time. With IMSA heavily monitoring lap times for BoP purposes, BMW Team RLL, Corvette Racing, and Ford Chip Ganassi Racing alerted the series when the low-energy sets were used to help IMSA account for the change in speeds.
• Timing and scoring information was kept private by the series during the test.
• Sean Rayhall was on hand to try the DeltaWing DWC13 and got up to speed quickly.
---
• BMW Team RLL and Turner Motorsport made full use of the test to find speed and weaknesses in the GT Daytona and GT Le Mans versions of BMW's new twin-turbo V8 M6. Although the big BMWs were challenged for outright pace, the November test served its purpose as both programs worked through issues ahead of January's Roar Before the 24.
On the GTLM side, the converted-from-GT3 M6 persevered through axle issues and, based purely on listening from trackside, it struggled in the electronics department when powering out of slower corners. Plenty of sound was happening as traction control and boost control efforts were working furiously, but not a lot of forward movement took place on hard throttle applications. Given the massive number of BMW engineers on site for the test, I'm sure solutions will be implemented before the car returns for the Roar.
• Too many race-winning drivers were sitting idle at the test. Spencer Pumpelly, Damien Faulkner, Dion von Moltke, and Stefan Wilson were among the painfully unemployed at Daytona.
• Audi Sport's presence at the upcoming Rolex 24 at Daytona will be interesting, thanks to its relaxed policy of letting factory drivers sign with other teams. Filipe Albuquerque (Action Express Racing), Marcel Fassler and Mike Rockenfeller (Corvette Racing) are among the known LMP1 or DTM drivers who'll race at Daytona, and with up to four Audi R8s expected for the GTD class, more factory talent could be added to the list.
• Ford finally confirmed its full-time drivers for IMSA, leaving its IMSA endurance drivers and its full WEC lineup to be unveiled. Of the drivers at the test who weren't announced, Sebastien Bourdais, Marino Franchitti, and Olivier Pla were seen driving. One driver expected to be announced for the WEC roster was busy in Bahrain for the WEC finale.
• Chip Ganassi Racing is expected to field at least one Ford EcoBoost DP – and possible a second – to defend its overall win with its usual collection of IndyCar and NASCAR drivers.
• In addition to giving PC teams a new top gear ratio to reduce revs on the banking, teams are also expecting new camshafts to be in place for the opening race.
• Although unconfirmed, it's believed Aston Martin and Mercedes-AMG are unlikely to cover the financial agreement required for each manufacturer to have its cars compete in IMSA's WeatherTech Championship. TRG-AMR and the Mercedes-AMG test team were present at the test, but returns in January, at least at this stage, looks unlikely.
• Mazda's speedy new 4-cylinder gas turbo P2 engine was kept under wraps during the test (BELOW). The blankets will come off in January after the Japanese brand decides on a name for the 2.0-liter motor.
Action Express Racing has confirmed the complete driver lineup for the team's two entries in the 2016 IMSA WeatherTech SportsCar Championship. The team had announced the return of the four full-time drivers at Road America in August, and recently added Scott Pruett to the team for the Rolex 24 at Daytona and the Mobil 1 Twelve Hours of Sebring.
Filipe Albuquerque (RIGHT) will co-drive the No. 5 Mustang Sampling Chevrolet Corvette Daytona Prototype at with two-time and defending series champions Christian Fittipaldi and João Barbosa at Daytona, Sebring and Road Atlanta. The Portuguese sports car driver turned his first laps in the team's Corvette DP at the IMSA sanctioned test at Daytona International Speedway November 17-18.
IndyCar driver Simon Pagenaud will join Action Express Racing for the Rolex 24 at Daytona and the season finale at Petit Le Mans driving the red and white No. 31 Whelen Engineering Corvette DP with Dane Cameron and Eric Curran.
Also joining the Whelen Corvette DP lineup for the Rolex 24 at Daytona will be 2016 Sunoco Whelen Challenge winner Jonny Adam. The Scottish driver is an accomplished sports car driver throughout the United Kingdom and Europe, and added his name to the prestigious list of champions of the challenge: Derek Johnston, Ross Kaiser, Felipe Nasr, Ivan Bellarosa, Bradley Smith and Phil Keen.
As previously announced, Pruett will co-drive the No. 5 Mustang Sampling Corvette DP at Daytona with two-time and defending series champions Christian Fittipaldi and João Barbosa. Following Daytona, Pruett will then join Dane Cameron and Eric Curran in the No. 31 Whelen Engineering Corvette DP for the Twelve Hours of Sebring.
While Action Express Racing is excited about their 2016 lineup, team manager Gary Nelson and team owner Bob Johnson reflected on the drivers who helped make 2014 and 2015 such a great success.
"Sébastien Bourdais is a world-class driver and his contributions to Action Express Racing over the last two years were amazing," said team manager Gary Nelson. "He was a major part of our 2014 Rolex 24 at Daytona victory and this year helped snap a 50 year winless streak for Chevrolet in the Twelve Hours of Sebring, and again in the win at Road Atlanta which lead to the championship in the TUDOR Championship and the North American Endurance Cup. We can't thank Sébastien enough for his contributions over the last two years and we wish him all the best in his future endeavors."
"Max Papis was instrumental this season in helping us form a new full-time team," said Johnson. "His leadership on and off the track helped take the Whelen guys from the new guys to the lead guys. Even when the situation looked bleak at Daytona and Sebring, Max was the leader who inspired the entire Whelen team to keep fighting.
"By the end of the season we had two cars in position to win the championship and that's much attributed the efforts of both Max and Sébastien. I want to wish both guys the very best in whatever they do next, and they will always be an important part of the Action Express Racing family."
Tethering aerodynamic components of the Dallara DW12 chassis is among safety enhancements announced by IndyCar that will be implemented for the 2016 Verizon IndyCar Series season; a change that comes in the wake of Justin Wilson being fatally injured by a piece of flying bodywork at Pocono in August.
The high-tensile Zylon tethers minimize the possibility of components becoming detached from the race cars during accidents.
The rear beam wing and rear wheel guards will be tethered for all Verizon IndyCar Series events and the car's nose will be tethered on superspeedway ovals (1.5 miles or longer). Dallara also has designed a tethering system for the front wing main plane for the three superspeedways on the 2016 schedule - Indianapolis Motor Speedway, Texas Motor Speedway and Pocono Raceway.
Since 1999, Verizon IndyCar Series cars have employed wheel restraints attached to the chassis and suspension. The Suspension Wheel/Wing Energy Management System (SWEMS) also includes one or two restraints attached from the rear wing main plane to a secure location on the transmission.
"It is a continual goal to improve safety for all the participants, fans and drivers alike," said Will Phillips, IndyCar Vice President of Technology.

"We also need to do this in a fashion that does not create more yellow-flag racing and try to prevent as much debris as possible. We have great support from our partners to improve safety and wish to thank Chevrolet, Honda and Dallara for their participation and efforts in working together to implement change."
Other changes for the 2016 season as part of IndyCar's ongoing research and development to improve the on-track product and safety include:
A domed skid plate on the underside of the chassis, which improves its yaw/spin characteristics, will complement rear wing flaps that deploy at 90 degrees if a car spins and travels backward on a superspeedway. The package will minimize the incidence of the car becoming airborne. The rear wing flaps have been tested in wind tunnels at General Motors and Texas A&M University. Components are scheduled to be available for the April 6 test on the 2.5-mile Indianapolis Motor Speedway oval.


An update to the Engine Control Unit (ECU) prevents a car from moving forward during a pit stop if the gearbox is not in neutral while the fuel hose is attached. Through the ECU, the fuel probe activation sensor can stop the car from moving forward by returning the engine to idle and engaging the clutch if the car is not in neutral when the fuel probe is plugged in.


Another ECU update puts the engine in idle faster if too much pressure is applied to the throttle or brake pedal. The throttle pedal failsafe will engage and idle the engine when pressure applied to either the throttle or brake pedal exceeds a calibrated threshold.
Open-wheel phenom Sage Karam is no longer under contract with Chip Ganassi Racing. The search for funding to keep Karam in the No. 8 Chevy Karam has not been fruitful, and with no immediate prospects to drive for CGR, Karam's manager says the team did not renew the 20-year-old's contract.
"The team allowed his option to expire, and they are still very high on Sage, but the opportunities for the team are unknown and the budget for the 8 car is also unknown, so they didn't want to keep him bound with nothing to offer," said Mickey Ryan, who also managed Dario Franchitti and Dan Wheldon.
With few open IndyCar seats for Karam to fill, Ryan has been searching for opportunities that would keep his client busy in 2016. CGR is expected to reduce to three full-time entries next year, and other than KVSH Racing on the Chevy side, and a few options with Honda-powered teams, the young Pennsylvanian could spend the season waiting for seats to open in 2017. A return to CGR in one or more of its racing programs next year is also a strong possibility next year, according to Ryan.
"He's no longer under contract, but we'd like to see if we can put together an Indy 500 program, and to explore other options in the family with Chip for Global Rallycross or sportscars," he continued. "Sponsorship is hard to find, and Sage is only 20. There isn't an open IndyCar seat right now, but Chip is a big believer in him, and 2016 might be a bridge year where we wait to see what opens up in '17."
Karam's pace in CGR's Daytona Prototype was a highlight of the 2014 season (RIGHT), and given a chance to race in IMSA, or GRC, Ryan believes his client needs to remain active instead of wait for nothing other than IndyCar opportunities to unfold.
"At the moment, we're exploring all options and it isn't limited to any team in any series," he said. "I know the Ganassi organization wants Sage racing, from a development standpoint. In this sport, if you're not in a car, you're forgotten pretty quickly. If the [Ganassi] team can put something together, across various platforms, I know he'd love to be there.
"And if he isn't there in 2016 in IndyCar, I think they'd embrace the idea of him continuing to develop himself elsewhere until something comes along. They've been great to Sage, and I know they want to keep working with him. We'll keep working at it until we get somewhere."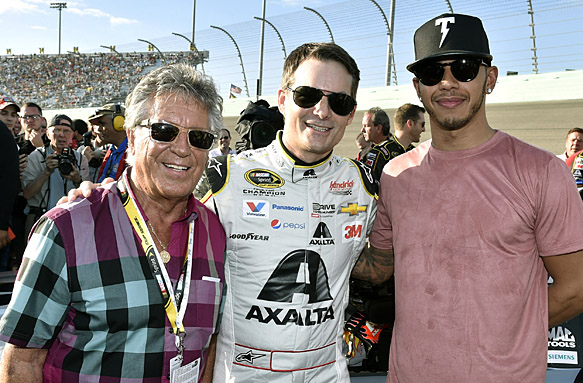 Four-time NASCAR champion Jeff Gordon has downplayed any comparisons with Formula 1 world champions Mario Andretti and Lewis Hamilton.
Gordon was joined by Andretti – who also won the Indianapolis 500 and Daytona 500 – and three-time F1 champion Hamilton before starting his final NASCAR race at Homestead last weekend. After bowing out of the sport with a sixth-place finish, as Kyle Busch secured his first Sprint Cup title, Gordon said he did not consider himself to be in their "league."
"Nobody is in Mario Andretti's league," Gordon said. "That's like a whole other league. I don't think of things like that. I have a lot of respect for other forms of motorsports.
"I was a huge fan of Mario, especially because he ran sprint cars and USAC and knowing he ran stock cars I believe he's the greatest driver of all time, Formula 1, all the things he did. It was so cool having [Andretti and Hamilton] at the car together and getting a picture with them, and Lewis was so cool.
"He was asking a million questions. He wanted to know everything about the cars, the competition, the tires, the track, everything, my steering wheel. He's a racer, and I love that, and Mario was just cool as can be, just, 'Man, go do what you know how to do, you've got this.' That was a great moment.
"I don't necessarily say I'm at their league. I just have great respect for them, and I was happy they were supporting me and being there at the car."
Gordon, who met Hamilton at an NFL Super Bowl, sampled a Williams Formula 1 car on the Indianapolis road course in 2003, in car swap with Juan Pablo Montoya. Eight years later, then with McLaren, Hamilton participated in a similar event with Tony Stewart at Watkins Glen.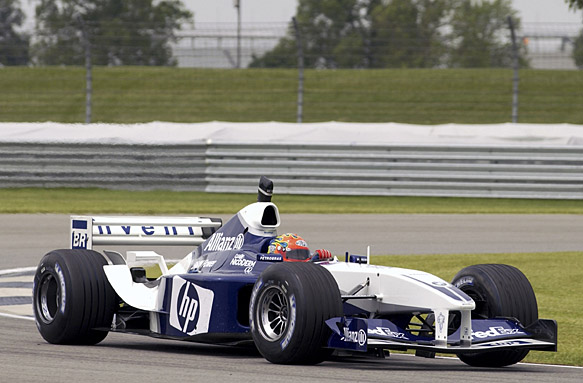 "I've liked Formula 1 ever since I drove the Formula 1 car [LEFT]," Gordon said. "I always have been fond of that sport, and if you asked me what sport do you watch the most besides NASCAR, I'd say Formula 1, then NFL. And so I was already a fan of [Hamilton], and then he went and won the championship, and we just stayed in touch, and then this year I've been in touch with him and cheering him on and just communicating with him.
"I've been trying to get him to come to a race, and it just so happens this was the race that he was able to come to, and I can't think of a better race for him to come to."
Michael Shank Racing's Ligier JS P2 chassis is eligible to compete in 2017, but the Ohio-based IMSA team has no intentions to use the French prototype beyond next season. The WeatherTech SportsCar Championship's Prototype class will adopt the ACO/FIA's new P2 regulations in 2017, and with his current Ligier already approved to race when the new regulations come into effect, Shank could squeeze two more years out of the JS P2.
However, concerns over the long-term competitiveness of the Ligier, which made its debut in 2014, has Shank leaning toward replacing the JS P2 for a new model once the next WeatherTech Championship season concludes.
"It's a little bit complicated, but when we had the Ralt and the Swift Atlantic cars, and it was a thing where you could keep running the Ralt, but we knew the Swift was coming and I'm of the mindset that the more you hold something off, the more you fall behind," Shank told RACER. "The minute we can jump, we'll jump, and that's what we're going to do with the new 2017 car."
Shank will have four P2 manufacturers to choose from next year. Onroak, which builds the Ligier, Dallara, ORECA, and Riley-Multimatic all won contracts from the ACO/FIA to build 2017 cars, and at present, Shank says no decisions have been made.
"There's nothing concrete there and we're still looking and evaluating; we have some ideas on direction, but the decision is something we'll make next year," he continued. "I hope to have direction in April. We need to be on track in September or October. And the B part to the decision is we know [IMSA] wants us in new stuff, new equipment, so we're going to do all we can to be on track with a new car the soonest we can make it happen."
The early move to a new chassis, as Shank details, is being made to improve MSR's chances in IMSA.
"As we sit here today, I'm not factoring Le Mans in 2017 or 2018 into going to a new car," he said. "It's great to know we can go, and that we'll have one of the restricted chassis you can run in this new formula, but I'm doing this for my team based here in the U.S. today and what I think it will take to win in IMSA. That doesn't mean we wouldn't go to Le Mans with the car, but it was never part of the reasoning."
Shank incurred the expense of replacing MSR's crash-worn JS P2 after the Oct. 3 season finale at Petit Le Mans, and had hoped to purchase a second Ligier to use for a two-car program next year. Based on recent progress, it appears MSR's Honda-powered No. 60 JS P2 will be the team's sole entry in 2016.
"Never say never, and I'd move mountains if someone wanted to come join us in a second car, but right now, we're about 90 percent of being a one-car team," he added. "We're going to focus on what I think is a kickass race-winning program right now with the 60 for Daytona, and we'll see if anything else develops after."
Subscribe to Racer
Race Cars For Sale
More...
Ted Wenz Lotus Twin Cam, Hewland Mk85 5-Speed. Spare gears, wheels wi...
The RACER Poll
What is the best approach for dealing with rain delays?
Video: The Technology Issue IV
The Technology Issue IV is on sale now. Click here for more information.
FROM THE RACER CHANNEL ON YOUTUBE
Ryan Millen takes it to a different level.

See more than 50 On Board videos.

Honda Racing / HPD Videos
The challenge of PWC racing in the rain at COTA.

Like us On Facebook
Twitter Feed