Some 400 people joined the Brabham family in celebration of the remarkable life and outstanding achievements of triple Formula 1 World Champion Sir Jack Brabham at Silverstone Circuit today.
Sir Jack's widow, Lady Margaret, sons David and Geoffrey, grandsons Sam, Matthew and Finn were all in attendance for the special Memorial event held in aid of Kidney Research UK.
Alongside Jack's friends and racing adversaries, members of the international motorsport community and racing fans gathered to pay their respects to the legendary driver and engineer, who passed away May 19. The Sir Jack Brabham Memorial provided the chance for rivals and admirers alike to share their most precious memories of "Black Jack," while marveling at some seldom seen footage and photographs, and some of Jack's treasured personal artifacts.
Hosted by Sir Jack's youngest son David, his father's former on-track rivals and fellow drivers such as Sir Stirling Moss, Sir Jackie Stewart, Tony Brooks, John Surtees and Michael Macdowel joined John Watson and Jackie Oliver to recount tales of battles past.
Sir Stirling Moss (LEFT) commented: "Jack certainly knew how to drive a car. When I think back about him, I think what an amazing man he was. He was fast, he knew what he was doing, he was mechanically savvy with the car, I'd say he was my toughest competitor of all. Every week we were racing against each other in different countries, and it's difficult to think of anyone who gave me more trouble, to be honest.
"He was a very complete racing driver, I tell you that. Racing in those days was a sport, I mean, Jack lent me a back axle once in Australia, knowing that I might beat him – that was the kind of man he was. It's a very special occasion to be here today, but then he was a very special man. I must say I've had some of my best ever races against him and I remember him with great joy."
Flanked by the Brabham BT11/19 and BT20, representing Sir Jack's iconic 1966 World Championship win, Gordon Murray, Doug Nye, John Judd and Nick Goozee also shared their own special stories.
Special video messages were received from fellow countrymen and Red Bull Racing's Daniel Ricciardo, as well as his predecessor Mark Webber, while David read out a tribute from McLaren boss Ron Dennis and his brother Geoff shared a message sent by FIA President Jean Todt.
Eight stunning cars, either driven or manufactured by the Brabham team adorned the main hall, including a Cooper-Climax T53, the sister car to Jack's 1960 Formula 1 World Championship winner. The 1962 BT3, the first Brabham F1 car ever built, a Brabham BT24 and sister car to Sir Jack's final F1 chariot, the Brabham BT33 in which he took his last Grand Prix win in South Africa 1970, were also on display alongside a 1963 Brabham BT6 Formula Junior Car and 1964 BT8 sports car.
Sir Jack suffered from kidney disease and underwent dialysis for many years. He was renowned for his tremendous contribution to raising awareness of kidney disease, particularly in Australia. In the hope of continuing Jack's efforts, the Sir Jack Brabham Memorial raised funds for Kidney Research – the only UK-based charity dedicated to funding research to create a world free from kidney disease.
Those wishing to donate to Kidney Research UK can do so via www.justgiving.com/SirJackBrabham.
"It was a special day for the Brabham family to have over 400 people turn up for the event, and to have some of the racing greats take time out to tell their stories about Jack was extremely touching," related David Brabham. "We had a fantastic response from those wishing to attend and the media interest was staggering. It was a marvellous opportunity for friends and fans to get together and remember 'Black Jack', and also support one of Dad's charities, Kidney Research. I'd like to thank the BRDC, Silverstone and my Brabham team members for a superbly organized event."
Enter to Win an AX90035 SCX10™ 2012 Jeep® Wrangler Unlimited C/R Edition 1/10th Scale Electric 4WD – RTR.
All submitted questions to Marshall Pruett's Tech Mailbag presented by Axial are automatically entered into the drawing. Please click here for complete contest rules and information!

After a long hiatus, the Tech Mailbag is back with a series of wide-ranging questions that have come in over the last few months. With the IndyCar and sports car off-seasons under way, we'll have more Tech Mailbags to offer on a regular basis and need new questions. We've also split this edition into two parts with the second set to appear on Monday. -MP

First off, I am wondering about the durability requirements for the LMP1-H hybrid energy storage devices. Correct me if I am wrong, but the teams are allowed two engines per season, three under some particular condition related to Le Mans. The question is, does that include the hybrid system and more importantly the energy storage device? I would imagine the Audi flywheel system wouldn't have too many potential issues, but the Porsche battery and Toyota super-capacitor, I don't know.
Second, if I remember correctly, when KERS was introduced to F1, there was the requirement that the use of it not increase the engine RPM above the limit. Is that still the case? And how do/did they do it? I would guess a differential, but I can't quite picture it.
Third, was there some change to the WEC/Le Mans rules to accommodate the Toyota method for leaving the pits? I thought the engine had to fire without outside assistance before the car was allowed to leave. Don't get me wrong, I think it is a creative decision. I also thought the vehicle had to be neutralized before crews could touch it. Does a charged hybrid system not count against that?
From the video you posted, I loved McNish's comments about the types of tracks being built now, can we get over the Tilke designs already please (long straights into hairpins are pretty boring, try a chicane maybe), and the shout out to Road Atlanta being a real man's track. I still think the comeback he led at Petit Le Mans after starting 2 laps down following a warm-up crash was one of the most amazing drives I have seen.
Daniel, Atlanta
LMP1 hybrid units are not, at present, subject to the same kind of use limits found on other drivetrain components, but each unit is presented for marking and has its usage tracked by the ACO and FIA. I'm told you might see limits put in place in the future.
I'm not 100 percent clear on your second question, but I think the answer is the rule was intended to prevent KERS from being a tool that could take an engine running at its then-maximum of 18,000 revs and boost it over that limit. Any power source that feeds the drive system will influence revs.
Keep in mind the ACO championed the all-electric pit launch with Peugeot's 908 Hybrid. Nic Minassian drove the car out of the box and onto the track under electric power during a public demonstration at Silverstone in 2008, making Toyota's similar routine today exactly what the organizers envisioned.
Peugeot Hybrid prototype (Peugeot image)
Touching the surface of LMP1-H cars isn't a concern.
I've never been a fan of Tilke's work, but that's hardly an original comment for me to make. I haven't seen many Tilke fan sites pop up – let's put it that way. I do appreciate some sections of tracks he's designed, but I try to remind myself that he hasn't had the same blank canvas that designers had back in the day. It's like comparing a Mustang built in the Sixties to the ones produced today. The regulations require many things that take the raw experience of the original design and cast them into history's garbage can.
Heard one of the announcers during the Fontana IndyCar race say that Scott Dixon had 16 tear-offs on his helmet visor – that seems like an awful lot! Does there come a point where optical quality starts to degrade as the number increases? How is clarity maintained as the tear-offs are initially applied to the visor? Seems they would have to be applied very carefully to avoid wrinkles, creases, etc.
Chris Pericak, Charlottesville, VA
I asked Dixie to help with the answer:
"It would have been 15 or 16. The Racing Optics guys do 3- and 6-packs, and we did a combination of them for Fontana. Typically we'll run nine. Indy we'll run a few more, but it's not as bad as Texas or Fontana. It's more of a precaution. Also, the thing with Fontana, is you'd put some darker tear-offs on top to use while it's still a little bit light outside and pull those once it gets fully dark. With the old tear-offs, the thick ones, there's no way you use that many, but the new ones are super thin, so you can build up a bunch of them without losing any quality. You can see out just fine."
---
Over on reddit, the Aleshin crash got us to discussing what could be done to make ovals safer, regardless of restraints such as fan seating, space constraints, etc, whether it be massive runoff areas, taller walls, or other out of the box solutions that haven't been widely discussed.
http://www.reddit.com/r/INDYCAR/comments/2fcqv5/aleshins_crash_got_me_wondering_ignoring_things/
I'd be interested in your dissection of the pros/cons of various approaches, from pie-in-the-sky-no-restraints, to feasible but costly, to likely to happen (hopefully the answer isn't "nothing"). I'm sure there are other proposals that the IndyCar fan base isn't aware of, beyond what I've mentioned here.
Peter, Fishers, IN
Great question, Peter. The first note I'll make is the topic of oval safety advancement needs to be discussed in pre-and post-SAFER Barrier terms. If we're talking about genuine advancements, there's nothing that comes to mind, at least on the track side of the equation, that has been done since the SAFER was introduced in the 1990s. That's a LONG time to have such an important part of our sport remain stagnant.
We've seen some tracks make an effort to improve the safety of what they currently have in place – putting tires in front of things that could be problematic if they were hit, but without an active, responsible, and powerful organization to require improvements, it's hard to see how improved oval safety standards become a priority in America.
Yes, the FIA, through ACCUS, is the responsible party, but I have yet to see someone with real authority step up and take charge. Tracks are independently owned, which makes mandatory upgrades and investments in new safety technologies all but impossible. And who spends the money to test new ideas? At the moment, we have no one in charge of such things for ovals. It's a troubling void.
I'm not trying to dodge your question, but there's a practical side to the answer that shouldn't be overlooked. We can't even get oval tracks to agree on using one style of fencing or whether the mounting poles should be on the inside or outside of those fences.
Taller SAFER walls would seem like a smart move, but surely we'd want to see some testing done and some comparative data to review before taking action. I doubt the tracks will pay for the testing, much less fork out the money to buy all of the extra barrier material. If NASCAR demanded it, sure, I bet it would happen, but IndyCar isn't in a position to demand anything from its oval partners right now.
Frankly, the one thing IndyCar can control is its cars. Airbag technology continues to grow – how about inflatable Kevlar bags that deploy and protect a driver's legs, and another that enveloped the cockpit in the event of a crash that exceeds certain G and speed thresholds? I've already written about the need for canopies, of some shape or form, to be developed. I'd love to see more crushable structure extending out from the DW12's cockpit sides – akin to what Dallara did with its Formula E chassis – to aid the carbon-fiber floor in side impacts.
Protect a driver's exposed head, add a greater cocoon of safety around the rest of a driver's body inside the cockpit, and with those measures in place, I think we'd have some fairly robust actions in place to rely on when the next big speedway crash happens in an Indy car.
I really enjoyed your coverage of the 24 Hours of Le Mans. I have been there twice 2003 and 2007. Had a great time each time and want to go back. I tell everyone about the Wall of Bottles.
A tech question I have is, I kind of thought that Porsche's entry into the WEC and the 24 hours of Le Mans was to maybe race again and win at the 24 Hours of Daytona. This was before the American Le Mans series died. But now with IMSA using P2 cars and the WEC cars way above the IMSA cars I do not see that happening.
I have read that Jim France/IMSA is trying to put new tech guidelines together for 2015 or 2016. Are they trying to get anywhere close to WEC/ACO cars or will just do their own thing and forget the WEC/ACO.
I remember last year attending the Laguna Seca races and seeing I think it was the Level 5 P2 car and asking them when they were going to Le Mans. One of the crew members said this car will be going very shortly. That was kind of neat seeing a car that was actually going to race at Le Mans. I also remember the Flying Lizard Porsche 911 GT3 RSR heading for Le Mans also after the Laguna Seca race.
I seem to remember hearing or reading that their maybe there is some bad blood between the France family and the ACO in France. We are NACAR and do what we want.
So other than the WEC coming to Austin, will we ever see a Le Mans spec car race in the states and especially race at 24 Hours of Daytona or at Laguna Seca?
Kurt Brogger
We'll see IMSA go to the new global standard for P2 cars in 2017. As for whether we will ever see an American sports car series include P1 cars, I am confident it will happen. History tells us sports car sanctioning bodies come and go and new ones appear every couple of years, so while IMSA does not permit P1s, there's no telling how long IMSA will be around, or whether another sanctioning body will be established where P1s are allowed. Change is a constant in sports car racing, and the lack of P1s at Daytona, Sebring, etc., will change at some point without question.
---
During the telecast of the Indy race at Fontana, there was a shot of Hinch's car and the bodywork that surrounds the turbo exhaust. The bodywork had a rather sizeable cutout to allow for the exhaust pipe to stick out. The commentators said this size of hole would not exist when aero kits are released next year. On another shot of Castroneves' car, it seemed the bodywork was sculpted tightly. Around the exhaust...no big opening. Could the Penske cars have had a tighter bodywork package this year?
Joey
It's an open item for teams to manipulate, and also an area that Chevy and Honda spent considerable time exploring in CFD and wind tunnels when the DW12s went into service. One came to the determination an aero advantage existed with the hole sealed, while the other found an improvement with it left open, and both of their findings were influenced by how open or restricted they went with the sidepod radiator inlets. I then watched as teams affiliated with both manufacturers appeared to adopt the other's findings, and by 2014, I pretty much gave up trying to make sense of whether one was better than the other!
I heard a lot of chatter on the radio at Mid-Ohio about fuel mappings. For example, I heard some teams say go to mapping three or five and the highest I heard was eight. I could be wrong but I think the higher the mapping, the more conservative because Dixon was told to go to mapping eight on the final lap and we saw how that almost ended badly. How many fuel mappings are there for each team? Does it vary from team to team? How different is each mapping from one another?
Also, would it be possible for IndyCar to adopt Code 60 especially for simple spins and stalls?
Raymond, Flemington, NJ
Engine manufacturers tend to create a table of maps for their clients and look to standardize them as much as possible, but teams definitely have input on where those maps are placed. IndyCar limits the "fuel trim" adjustments to eight positions. Many teams prefer to have their yellow maps in the last slot on the dial so drivers don't have to worry about clicking to a specific position – they can just crank the knob until it stops.
Depending on the series, you can have plenty of maps to choose from, so it differs, but in general, you'll have full rich and then gradients. Some teams might want Slot 1 at 100%, Slot 2 at 98%, Slot 3 at 95%, and the next team might want it 100/99/98. Another could ask for 100/95/90. And with IndyCar, you also have turbo boost to manipulate and drive-by-wire throttles where individual mapping has really taken off. This is an area most teams, drivers and manufacturers are reluctant to discuss – traction control isn't allowed, but with some of the throttle and boost response adjustments that can be created in software mapping, you can get close to limiting undesirable wheelspin. Or, at the other end of the spectrum, if you're looking to help the car rotate on a street course, for example, a more aggressive throttle map could induce wheelspin…lots of options to consider.
It would be possible for a Code 60 in IndyCar, but we rarely see spins and stalls that take up a lot of time.
When the new IndyCar aero kits come out next year, what will the rules be regarding them? Do the teams have to run them "as is", or will they be allowed to tweak them to their own liking?
Chris Blackwell, Concord, N.C.
At the moment, the rules call for each kit to be homologated by the AK manufacturers and used as-delivered by the teams. I've heard talk of IndyCar looking at small areas for teams to tinker with, but have not seen anything concrete on that happening – at least in 2015.
I was watching some old CART videos to remind myself what races with different-looking cars was like and I have a couple of questions:
I noticed in some of the oval races that the guys running Lolas were taking different lines through the corners than the guys running Reynards. Was this a chassis thing, an aero thing, a tire thing or a driver thing? Might the differing aero kits in 2015 lead to drivers of one brand driving different lines than drivers of the other? Is that asking too much?
I was also reminded that some of the Reynards had fins over the engine cover (particularly Team KOOL Green), yet most did not. Was this at all functional or was it just benign premium advertising space? Is there room in the IndyCar regs for 2015 for fins over the engine cover? What is the purpose of these fins on LMP cars?
s2000_moose
That's a new one to me. Lolas, Reynards, or any other chassis do not have a line of their own, or one that fits one chassis better than the other. If one model has a tendency to understeer or oversteer on an oval, and teams are unable to engineer that trait to a happier place, you'll definitely see drivers taking lines to account for the OS/US, but that's more a case of driving around a fundamental problem.
If one AK has more downforce on the bigger ovals without a related drag penalty, you could see more aggressive lines if it won't burn the tires off the car. The old Indy car fins were about increased stability in yaw, and in sports cars, they were introduced as mandatory pieces for the same reason, albeit with a lot more real estate, to reduce the tendency for prototypes to blow over in big yaw moments.
---
I have three questions. 1. Why doesn't IndyCar mandate the high-flow radiators used at Fontana in every race? 2. What was pulled from Simon Pagenaud's airbox? 3. Paul Tracy and Townsend Bell illustrated during the TV broadcast how the current Dallara bodywork isn't as tight-fitting around the chassis than in the '90s. You could clearly see the glowing turbo from Helio's rear camera in front of the exhaust. Is that a intentional/ unintentional function of aero/cooling? Thanks.
Rob Peterson, Rochester, N.Y. (2 hrs north of Watkins Glen)
Let's work backward. I covered the exhaust outlet item above, so I hope that answers your question on that one; I don't actually recall what was found in Simon's airbox (a Penske contract, possibly?), but something about an easily removable paper filter comes to mind; and I don't think IndyCar needs to force teams to use the high-flow radiator in high ambient temperatures. You can rest assured the engine manufacturers will make sure their teams do not blow up their painfully expensive powerplants because they failed to fit the right radiator.
I have a question about the displays on IndyCar steering wheels. From the testing videos I've seen, the wheel on the IL-15 has a LCD display roughly the size of a smartphone that shows gear selection in large, clear numbers, along with other parameters. I've seen similar displays on some F1 wheels as well, but on the DW12 I don't recall ever seeing anything other than a narrow red LED matrix display like they've been using for the last 10 years or more.
As I understand, the drivers have a number of wheels to choose from and the teams have some flexibility in the layout of buttons and controls. Do none of the wheels available have the larger, seemingly clearer LCD displays, or do the drivers choose to go with the older-style display? Will the race-spec IL-15 have the LCD display or is that a special wheel used for testing?
Brandon, Hebron, KY
IndyCar did a deal with the good folks at Cosworth Electronics (the artist formerly known as Pi Research), which is why you see the same dash display on the DW12 that was introduced in CART, and later used in Champ Car. The IL15 was a clean-sheet commission from Andersen Promotions, and the dash you've seen in testing is what will be used in competition.
Image courtesy of Stadium Super TrucksAfter watching those awesome Robby Gordon's Stadium Super Trucks, I realize that he may have the secret for the perfect racing scenario, ya know? Almost zero downforce, powerful engines and lightweight brakes. Do you think IndyCar, NASCAR and F1 could use these three items to improve their races? I mean.. is this the real deal to make drivers really drive and make the sport exciting again? It looks like they are racing on a wet track all time, and that is our favorite thing to watch on regular series right? Or it just wouldn't work for other style of racing? (No I don't want mega-jumps in F1 and IndyCar...LOL)
Mitchell Arenbac
All depends on what you think is missing or needs to be improved with those three series. Power has never been an issue in NASCAR, and they don't have much downforce, nor do they use their brakes, barring the two road course races. F1 could use more power, has the lightest brakes in racing and does have a lot of downforce. IndyCar has good power, light brakes, and tons of downforce.
A lot of people think downforce=easy to drive. You can certainly have too much downforce and make a car easier to drive on the limit than it should be, but I can't recall a series where excessive downforce led to average drivers looking like rock stars. Reducing downforce would indeed make cars that rely on downforce harder to drive, but remember that downforce is for the corners, so if people want to see powerful cars fly on the straights then slow to a crawl to tip-toe through the twisty bits, taking away downforce will certainly make that a reality.
I'd rather see series like F1 and IndyCar work to lower downforce levels to make going flat through the fastest corners something only the most talented teams and drivers can achieve, rather than something almost anyone can accomplish. That tweak, compared to a wholesale drop in downforce, would be welcome.
Who has the advantage in humid environments? Is it a turbocharged engine – self-cramming the humid air creating its own conditioned combustion chamber. Or is it the naturally aspirated engine – trying to take as deep of a breath as possible at speeds.
Justin Driggers
Lots of variables to consider here, but in general, watery air is treated the same when it hits the combustion chamber of a turbo or NA engine.
With the recent penalties for running over air hoses in IndyCar I was wondering why teams use air guns that require air hoses? Couldn't they use guns with small compressed air cylinders? Especially in F1 where the cost would not be an issue, although they have the overhead booms to keep the hoses out of the way. Or how about electric guns – too much spark risk?
Tim Elder
The mount-a-cylinder-to-the-guy's-back idea has been floated in most series where pit stops are performed. The thought of a car pulling away with stuck air gun or trapped hose attached to someone ends the conversation immediately. An electric wheel gun could be an option, but with hundreds of pounds of torque required, the size of the motor and subsequent weight of the gun and moving pieces would be a concern.
---
What could (and should) be done in F1 to reduce the "dirty air'' (turbulence) behind the cars?
Giu, Sao Paulo, Brazil

Hi Giu. Based on a few other Tech Mailbag questions you've sent on a similar theme, you clearly don't like dirty air. As long as F1 cars have wings and downforce-producing items, air will be disturbed and dirty air will trail the cars.
Will IndyCar need to pass for some BoP thing when teams start to testing aero kits?
Chip Toone
Unless a kit is exceptionally poor, which won't happen, IndyCar has no intention of using BoP. They have the only-if-it's-WAAAAAAY-off rule for engines, too.
My biggest doubt about aero kits: Will small teams like Herta's or Foyt's be able to use Dallara's current kit to save some bucks at least for a few races? Racing against Honda and Chevy aero kits on track?...
Giu, Sao Paulo, Brazil
Hi again, Giu. We're talking about $75,000 per car for an aero kit, and while money is tight in IndyCar, it's a small expenditure. Teams are allowed to stick with the stock Dallara DW12 bodywork, but it's a guaranteed way to finish last at every race. What's the better choice to make: saving money up front by not purchasing aero kits, or losing all your sponsors at the end of the year because you had the slowest car in the field… ;-)
Love the Mailbag, it's a great read. My question is fundamentally what are the differences between the PWC spec cars such as the CTS-V.R and the Acura and the GT3 spec cars? I've been told that the PWC cars are tubeframe-based, not production-based.
Devin, Greenville, S.C.
All PWC cars are production-based. Tubeframe cars are not allowed. With the SCCA as its sanctioning body, PWC has used its own specification all along; I've built a GT car to PWC regulations, and it was rather easy, to be honest. With PWC allowing GT3-spec cars into its GT category, it simply opened the door for cars built to a global FIA spec rather than limiting its class to cars conforming to SCCA Pro Racing's spec.
As for what's different between the two, there isn't much. Both allow lots of power and aero, and then work to tune the cars to fit among the other cars in the class. The big difference is GT3 homologation is a rather robust procedure intended for manufacturers with some volume of production in mind. The low-buck Subaru WRX STI that I put together was a one-off, and was built and entered privately. For the rest of PWC's classes, you can pretty much build anything that would fit and show up to race.
As I understand it, gearbox lubricants are an open area of innovation for IndyCar teams. What are teams using? From my casual fan view, it looks like Schmidt-Peterson is tied in with Lucas, and Penske is tied in with Shell, but what brands are the other teams using? Are they using off-the-shelf oils or super-special, mega-expensive bespoke miracle lubes? Tell us what you know.
Gene, Saratoga Springs, NY
Some teams have associations – Penske with Mobil 1, SPM with Lucas Oil, as you mention, and most have some sort of relationship with a petroleum vendor. Most use a special blend they have made to their specs, and it varies from circuit to circuit. Thicker oil for road courses, thinner for ovals, something with a viscosity close to water for a four-lap qualifying run at Indy…
In terms of the Corvette Daytona Prototypes, it was stated that Action Express, Spirit of Daytona, and one other team whose name slips my mind were all running Coyote chassis cars, and the rest Dallaras. What, if any notable differences are there between the Coyote chassis and the Dallara chassis and is there any particular advantage to using one or the other at a particular track?
Nick, Maryland
Of the Corvette DP teams, AXR, SDR and Whelen use the Coyote chassis, Wayne Taylor is the only Dallara user in the paddock, and until their car was destroyed at Daytona, Bob Stallings Racing was the only Riley user. The Coyote is RHD, which is unique, but I can't think of anything from a design or construction standpoint that could be considered better or advantageous. On raw speed, WTR's Dallara was a beast in 2013 and again this year, but if you look at the numbers, three Coyote's worth of data and development is better than what you'll get from a single Dallara or Riley. And with AXR serving as the closest thing to a factory Coyote team as you can get, there's definitely a lot of knowledge and expertise on hand.
My 12-year-old son and I watch a lot of races together and he was excited to see the hybrids in F1, so we discussed aspects of their technology. Because of this, as a school science project, he demonstrated to his class how a thermoelectric generator worked, using the teacher's coffee and a glass of water. The 1" x 1" wafer spun a small fan by converting the temperature differential into electricity.
That said, do any of the teams in either F1 or WEC use this technology in their cars? As hot as these power units run, would there be enough temperature differential to be effective? I guessed Porsche might use it in their exhaust recovery but simply don't know.
Oh, my son got an A+ on his project!
Jonathan Charles
Jonathan, your son sounds like an awesome kid; I hope he considers a career as a designer or engineer. Racing is starving for young talent in both roles these days. Thermoelectric conversion isn't used very much at the moment, and the only serious example that comes to mind is Porsche's 919 Hybrid, which utilizes a secondary exhaust-driven ERS system – although, as I've written before, I'm hesitant to believe anything Porsche says about its 919s.
It's less 'thermal' and more 'solar,' but the Aston Martin Racing team uses a roof-mounted panel to capture energy from the sun through photovoltaic cells to power its air conditioning system.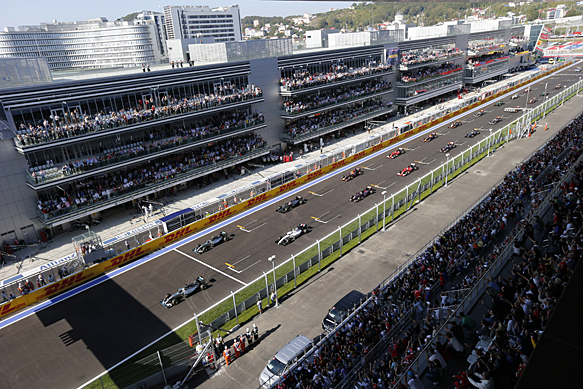 The FIA has ruled out asking Formula 1's top teams to run a third car this season, despite growing doubts about grid numbers at the end of the 2014 campaign.
With Caterham now expected to miss the next two grands prix in the United States and Brazil, and uncertainty about Marussia's plans after it ran a sole entry in Russia, there is a chance there could be fewer than 20 cars on the grid in the final three races.
If grid numbers fall below 20 then clauses in the commercial arrangements between teams, the FIA and Formula One Management mean that some outfits could be asked to run an extra car. But with agreements believed to state the teams will get 60 days' notice to run a third car, and clarification about the livery, driver qualification and points-scoring capability of an extra machine still needed, such a move has been ruled out for now.
High level sources have confirmed that, for the remainder of 2014, the FIA will not seek replacement cars on the grid to bolster numbers up to 20 in the event that entries fall.
DOUBTS OVER 2015 PLAN
Even if the door would be theoretically open for third cars in 2015, bigger teams are still not convinced it is a realistic proposition. Mercedes-Benz motorsport boss Toto Wolff said recently that he thinks it could not happen without a very long lead time.
"It is reflected in the regulations that if the grid falls below 20 cars, the FIA and the rights holder may ask a team to supply a third car," said Wolff about the latest situation regarding third cars. "Now, that is quite a call.
"First of all, you need to set up and do the logistics, the infrastructure and the resources to run a third car. Then you need intelligent rules around who runs a third car. Where is it being run? Who drives it? Is it going to score points? And which livery will it be running?
"There is so much to be sorted out before we can run it and I don't see it happening. I knock on wood as I hope that all teams will stay in F1. But if the past history has shown that teams come and go, then this is not something that would be a great shock."
Originally on Autosport.com
The spectacular Bentley Continental GT3 made its North American debut in competition in the final five race weekends of the 2014 Pirelli World Challenge Championships in the capable hands of Dyson Racing Team Bentley. RACER was granted unique behind-the-scenes access by Bentley and Dyson Racing for this series of videos produced for RACER Studios by Jim Perry. Follow the team's rapid progress as it draws to a spectacular climax that positioned the team perfectly for next year's full-season Pirelli World Challenge GT class campaign.
In this sixth episode, team driver Guy Smith talks about the design rationale behind the Bentley Continental GT3-R.
Additional episodes in the series premiere here at RACER.com each Friday. Click the links below to watch the previous episodes in the series.
2014 Team USA Scholarship winners Aaron Telitz, 22, from Birchwood, Wis., and Michai Stephens, also 22, from Evanston, Ill., have completed three days of testing this week at Brands Hatch in preparation for the Formula Ford Festival, which begins tomorrow with qualifying and a pair of heat races.

Results so far have been very promising, with Telitz, this year's Cooper Tires USF2000 Championship Powered by Mazda Rookie of the Year, regularly among the pacesetters in his red, white and blue #22 Cliff Dempsey Racing Ray GR09, and Stephens not far behind in #21, despite this being his very first year of racing.

The weekend's racing activities begin with qualifying for Heat One on Saturday, October 25, at 9:30 AM local time and the race starting at 2:05 PM. For Heat Two, qualifying will begin at 11:30 AM and the race at 3:00 PM. Live timing and scoring is available at: http://tsl-timing.com/?loc=club&season=2014&series=BRSCC&event=club&source=ed_BRSCC&eventid=144331


Welcome back to the third edition of the chronicles of a racecar driver in England! Since I last checked in last Friday, Michai and I have been having a blast here. Once we got back from Silverstone we had some time to really relax and get in a groove. A groove which has included sleeping in, going to the pool and gym, and go-karting! It only took us until Sunday to start having racing withdrawals, so we called up the mechanics from Cliff Dempsey Racing and met up at the local kart track. We all had a great time hustling some karts and beating up on each other.

Sunday night after searching every corner of the internet I managed to figure out how to stream the (Green Bay) Packer NFL game (GoPackGo! They won). On Monday the Team Canada driver Chase Pelletier, showed up to get his seat fitted at the race shop. So being the nice and friendly Americans we are, we invited Chase to come karting with us Monday night. We all had a great Cliff Dempsey Racing team bonding experience! Racing is all about going fast and having fun and I'm positive we are all going to be doing a lot of that over the next two weeks.


Aaron (right) and Michai bundle up for their track walk at Brands Hatch.On Tuesday we packed up and rode down to Brands Hatch to get setup and settled into our hotel. When we arrived at the track it was super windy, so the team couldn't put the canopy up. So, Michai and I went on a very cold, wind and rainy track walk! You can never really appreciate elevation change until you see it in person. And let me tell you, Brands Hatch has some elevation change. Paddock Hill Bend goes almost straight down, then as if going down a steep hill isn't enough you immediately climb back up an equally steep hill to Druids Bend. I was getting a workout on the track walk, and it wasn't because of its length. But even with Brands Hatch coming in at just over a mile (1.2 to be exact) it definitely packs a punch. I couldn't wait to get out and rip it up!

On Wednesday I got my first laps of Brands Hatch. It was like a big roller coaster ride! It sort of reminds me of Lime Rock a bit as far as length and speed goes. I took to the track really well getting up to speed right away in the first couple sessions. The rest of the day was a great success getting lots of running time and trying some different setups.

As I write this last paragraph I sit in my hotel room after day two of testing here at Brands Hatch. Today we had a bit of everything. We had a nice dry track the first three sessions and then some damp driving in the final session. Again we had great pace in both the dry and damp! At the end of the day the Cliff Dempsey Racing guys all got to do some practice starts. Although I've never done a standing start in a racecar before I spent most of my teenage years trying to drag race from every stop sign and stop light. So, I caught on quickly! We have one more day of testing tomorrow and then the real fun begins on Saturday. So look forward to a full unfiltered race report after the weekend!

Giant thanks goes out again to the Cliff Dempsey Race team who has been busting their butts to give me and the rest of the team awesome cars! Thank you also to all the Team USA supporters who are making all of this happen. And thank you to all the readers keeping up with my adventure.

Aaron
When the San Francisco Giants face the Kansas City Royals on Friday night in Game 3 of the World Series, a man by the name of William Behrends will be watching the game while sculpting a tiny likeness of Ryan Hunter-Reay's face. And there's a big connection.
Some of Behrends' other works – four huge bronze statues of Giants legends Willie Mays, Willie McCovey, Juan Marichal and Orlando Cepeda outside the AT&T Park in San Francisco – likely will be featured during cutaways of the FOX Sports broadcast, bringing Behrends' largest and smallest works together in a most unusual way.
Behrends, who has sculpted some of the most iconic sports figures of our time, is working on his 25th tiny sterling silver face for the Borg-Warner Trophy that honors winners of the Indianapolis 500. An avid Giants fans, he'll be putting the finishing touches on Hunter-Reay's likeness while watching the game in his studio in Tryon, NC.
"I'll definitely be watching the games while I work on it," Behrends said. "It's the thing I look forward to while working on the Indy pieces. I often find myself working on a detail with a playoff game or World Series game on in the background. It brings things together for me."
The day after the 98th Indy 500 in May, Behrends met
Hunter-Reay. The meeting was more than just a chance to study a face Behrends was about to sculpt, but a chance to understand Hunter-Reay's personality and incorporate that into his work. He used the same technique – talking with and understanding his subject - for the four Giants eventually carved in 9?-foot bronze likenesses and mounted atop four-foot granite bases.
"With Willie Mays, I spent the day with him at his home and then met with him a couple of times after that," Behrends said. "It was very nice, and it gave me a chance to get to know him. He's an interesting guy. I watched him play when I was a kid, and I remember he was one of the few players I felt like I could recognize without seeing his number. He played with such ebullience. He's a very gregarious guy, but he has a reserve about him, as well."
The difference between working large and small is extreme. The Giants' sculptures each weigh a ton and each took more than 18 months to complete. Hunter-Reay's intricate sterling silver bust is about the size of an egg and is completed in about six weeks. It will be unveiled as the latest face on the Borg-Warner Trophy during a ceremony at the Indianapolis Motor Speedway Hall of Fame Museum in early December.
"Because it's smaller, you want to strengthen it and make it more vivid," Behrends said. "The strength of Ryan's jaw works in his favor. The trick is to get his face to stand out. You want it to be visible from 10 feet away."
What follows is probably a blend of fact, rumor and opinion and the proportions within the blend are not yet clear. So I advise you treat it as if watching an Oliver Stone movie: the most surprising aspects of the story may be true, but may also have been over-emphasized to suit the motives of its creator.
Last week we heard from former Ferrari president Luca di Montezemolo that Fernando Alonso is definitely leaving the Scuderia at season's end which is as surprising as hearing the moon is not, in fact, a giant peeled Babybel. What Mr Di Montezemolo has done though, is make us wonder anew what's next for Mr. Alonso: if McLaren is the only obvious choice left, why's nothing been confirmed yet?
There were suggestions that Alonso might take a sabbatical from Formula 1 and race in the FIA World Endurance Championship – or the 24 Hours of Le Mans, at least. These rumors were lent some credence by another rumor – that former Ferrari team boss Stefano Domenicali is to join the Audi sports car team to replace Dr. Wolfgang Ullrich. Now, however, that second rumor has withered on the grapevine and, from what we hear, the Alonso-to-WEC rumor should never have been believed, anyway.
One of RACER's best insiders has clarified Alonso's situation, although you'll appreciate that this remains a moving target. Alonso to McLaren, as of last Friday, was still only 50/50 because the driver wants just a one-year deal, while the team is standing steadfast and demanding a two-year contract with an option on a third. Should no compromise be reached, Alonso may head to Lotus, despite Lotus switching to Mercedes-Benz power in 2015 and despite one of Alonso's throwaway remarks in Russia which suggested he won't be piloting a Mercedes-engined car next year.
Should Alonso indeed move to Lotus, that would mean Pastor Maldonado may be the incumbent driver who's retained as his funding would help pay his team leader's salary. That would leave Romain Grosjean out in the cold, despite the Frenchman excelling for a second straight year, so unless he was snapped up by McLaren, that would be as big a tragedy as the talented Nico Hulkenberg spending another season in midfield.
The decision, from Alonso's perspective, is not a slam-dunk in favor of the silver rather than black-n-gold team, and for two reasons. One is the car. McLaren's ability to produce a race-winning chassis is not a given, as Lewis
Hamilton, Jenson Button, Sergio Perez or Kevin Magnussen could tell you. And however magnificent its Formula 1 heritage, series returnee Honda certainly can't guarantee its engine will rival Mercedes-Benz from the first green light. Racing improves the breed, and in that respect, M-B has a one-season head start on Honda with the bafflingly complex hybrid power-units. (And whether it's relevant or not, Fernando will recall that Honda departed F1 with a whimper rather than a roar, last time around.)
In other words, McLaren-Honda is neither more nor less likely than Ferrari to produce a potential championship winner in 2015, so if Alonso has reached "an age when he cannot wait to win again" as Di Montezemolo put it, then exchanging like for like is far from ideal.
The second reason for Alonso's reluctance to commit to McLaren for longer than a year is the fact that Lewis Hamilton's current Mercedes AMG contract runs only through the end of 2015. At the moment, it's hard to imagine Hamilton wanting to leave, but that second Ferrari seat currently occupied by Kimi Raikkonen will become vacant at the same time, and Lewis will surely be tempted by the thought of partnering Vettel in 2016 if the Scuderia makes substantial gains next season. He's always eager to prove who's the better driver and resented Vettel having it (relatively) easy over the previous four seasons.
---
And so the dilemma Alonso faces is clear. There's the opportunity to go to Lotus for one year where he can (re-)ingratiate himself with Mercedes, who'd perhaps offer Lotus some sweeteners to keep Fernando in the holding tank ready for 2016 entry into the works squad. It would, after all, suit Mercedes just fine if Alonso's
technical expertise and drive were not helping Honda in 2015.
Or he can fully commit to McLaren-Honda, maybe see out his F1 career there. If that still seems vaguely amusing and amazing to those who witnessed the meltdown in relations between himself and Ron Dennis in 2007, so it now seems a bit more likely. Hulkenberg re-signing with Force India, and Grosjean apparently likely to stick at Lotus would suggest they know there's no vacancy at McLaren next year.
Can an Alonso-McLaren remarriage work? I think so. Alonso will surely back it down a couple of notches from his typically hardline "my way" stance. New Ferrari president Marco Mattiacci has been unimpressed at how much power Fernando held within the team and, with a letter of intent from Vettel already filed away (or so we understand), was able to say exactly what he thought when he met with his lead driver to discuss the future. At the time, an affronted Alonso was stunned that the boss had played it so tough, but on hearing of Vettel's departure from Red Bull Racing, suddenly all became clear…and suddenly much of Alonso's bargaining power had gone. So
perhaps a little humiliation may have led to a little humility.
Ron Dennis, meanwhile, will now be aware that his own naturally autocratic style is not the best way to handle Alonso. Better to let him be who he is, give him a teammate a couple of tenths slower and make him feel loved. One of Fernando's most admirable qualities is that, whether he's happy, miserable, angry or chilled, on track he never gives less than his best. But outside the cockpit, for the sake of the other team members and the unity of McLaren-Honda as a whole, it's surely better to have a contented Alonso who feels truly respected, not merely an employee.
Is he worth the effort it takes to constantly trip around his delicate ego? Yes, absolutely. You could argue the case for two – maybe three – other drivers being as good as or superior to Alonso in a couple of areas, in a couple of circumstances or at a couple of tracks. But as the complete package, I don't believe there's a better driver in the world.
So I hope McLaren and Honda convince Fernando they can, year after year, produce cars worthy of his talents…and then actually do it. He won't let them down, we can be sure of that.
Amid the ongoing growth with the Pirelli World Challenge series, one marque in particular is expected to see a spike in its presence on the GT grid next season as one AMG Mercedes SLS could turn into five.
Black Swan Racing owner/driver Tim Pappas has been the lone SLS representative in PWC with his distinctive No. 54 entry in the GT-A class for pro-am competitors, and RACER has learned he could be joined by as many as four more of the GT3-spec gullwing coupes in 2015.
"I will have two Mercedes next year, with a potential for a third," said DragonSpeed Racing general manager/driver Elton Julian. "We're a customer racing program, and we want to give our customers the best chance to win, to keep growing, and to help the World Challenge series grow."
Pappas says he looks forward to having more of the thundering German V8s in PWC next year, but also mentioned the increased car count could have a specific drawback.
"If all the extra cars come in, that would be good news, but the bad news part of it is the more people that run it, you get more into the [Balance of Performance] stuff with the series," he said.
It's also believed Conquest Racing is in talks to field an SLS next season as the veteran IndyCar and sports car team looks to branch out into PWC. In addition to racing an SLS in Europe, ALMS champion Klaus Graf has helped AMG with a few connections in America and says the existing GT3 chassis – and its replacement in 2016 – is a great option for PWC.
"The SLS is an incredible machine; it's a great package with power, balance and the right amount of aero for GT3," he said. "And AMG are working already on the new GT3 car that will be for sale when we get to the 2016 season, and it will be even better, so I hope we have more cars coming over to America because they would be perfect in the TUDOR series and World Challenge."​
Subscribe to Racer
Video: The Insider Issue
The Insider Issue is on sale now. Click here for more information.
FROM THE RACER CHANNEL ON YOUTUBE
RACER Presents: Guy Smith on the Bentley Continental GT3-R

The First 200mph Lap. Episode 5 of "Dan Gurney: All American Racer," presented by Bell.
TUDOR United SportsCar Championship: Interviews and insights from Marshall Pruett.
Twitter Feed