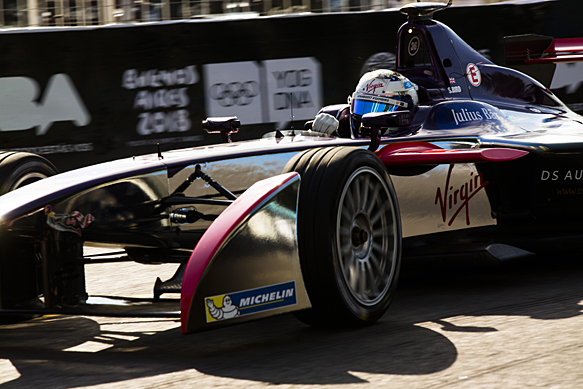 Sam Bird earned pole position for the Buenos Aires ePrix, while Formula E championship leader Sebastien Buemi will start last after a spin in qualifying.
Bird's effort continued a recent resurgence for the DS Virgin Racing team by claiming the alliance's first pole in the series. His superpole time of 1m09.420s put him comfortably clear of Nico Prost, who took up the Renault e.dams charge after Buemi spun, but was almost four tenths slower than Bird.
Prost only just edged Antonio Felix da Costa off the front row as the Portuguese continued to excel in the season-one specification Team Aguri entry.
Stephane Sarrazin was quickest in the group phase but could not replicate that pace in the final shootout and will join da Costa on the second row.
British driver Mike Conway starred on his debut qualifying session by making it into the superpole, in which a messy lap left him fifth.
Buemi was on course to top the group phase of qualifying but locked his Renault Z.E.15's rear wheels and spun at Turn 7. That left him slowest of the 18 drivers, although he will take small consolation from main title rival Lucas di Grassi failing to make it through to the superpole session as well.
The Abt Audi Sport man wound up seventh, just behind Andretti driver Robin Frijns as the two missed out on the top-five positions by less than a tenth of a second.
Daniel Abt will join teammate di Grassi on row four, with inaugural series champion Nelson Piquet Jr. earning his best qualifying result of the season in ninth, just ahead of Jerome d'Ambrosio.
Salvador Duran, on his Team Aguri return, and Mahindra's Bruno Senna both hit the wall in qualifying. The incidents occurred on their full-power laps in the third group, but their 170kW efforts were quick enough to put them ahead of Buemi.
Jean-Eric Vergne will contest the race after all, despite missing practice due to illness. The DS Virgin driver will line up 15th.
The Formula E race from Buenos Aires airs tonight on FOX Sports 2 at 8:00pm ET. The race will be replayed on FOX Sports 1 on Sunday at 6:30pm ET.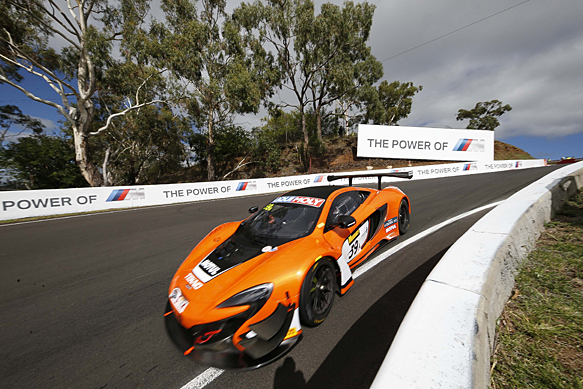 McLarens and Audis dominated qualifying for Sunday's Bathurst 12 Hour, with Shane van Gisbergen setting the fastest-ever lap on the famed Mount Panorama circuit.
After lighting up the track in the initial full-field qualifying session, van Gisbergen found another 0.3 seconds in the second session for the top 20 cars to take pole with a 2m01.286s lap. The V8 Supercars frontrunner will share the 650S with fellow McLaren team member Alvaro Parente and Tekno Autosport's team owner, Jonathon Webb.
"It was amazing, I have never been close to that fast around here before," grinned the New Zealander after taking the trophy named in honour of former Bathurst regular and GT racer Allan Simonsen.
He led four McLarens in the top eight positions, and two Audis in the top four positions. Fresh from winning the GTD category in the Daytona 24 Hours, Rene Rast, a last minute substitute for Craig Lowndes, was second fastest.
"We used the tires perfectly but Shane did an awesome lap. I could not beat him today," said Rast.
On his second trip to Australia Rast will share with the James Pem R8 LMS with V8 ace Garth Tander and amateur Steve McLaughlin. Objective Racing's McLaren took third, with Warren Luff setting the time after co-driver Matt Campbell led final practice.
Fourth fastest was Christopher Mies in the second James Pem Audi, which he will share with Christopher and Marco Mapelli. That was the end of the good news for Audi, with a number of the new R8s struggling for qualifying speed. Last year's polesitter Laurens Vanthoor was off the road at more than 140mph at one point and will start ninth for Phoenix Racing.
The second Tekno McLaren of Will Davison/Rob Bell/Andrew Watson was fifth ahead of fellow McLaren crew Craig Baird/Tony Quinn/Klark Quinn McLaren, who sat out the faster, final session. In doing so, the team dropped three grid spots to sixth, but the speed of the car was shown as Klark Quinn, an amateur driver, set its qualifying time.
The M-Sport run Bentleys had a consistent rather than blazing qualifying session and will line up seventh and eighth, Steven Kane/Guy Smith/Matt Bell ahead of Maxime Soulet/Andy Soucek/David Russell.
The defending champions had a tough time. Two-time Bathurst 1000 winner Rick Kelly did qualifying duties in the Nissan GT-R NISMO GT3 but the car will line up only 13th fastest.
Last year's winners Katsumasa Chiyo and Florian Strauss will share the sole Nissan in the race.
V8 Supercar star Scott McLaughlin led the times in Class B in the Porsche Carrera Cup racer he will share with Ben Schoots and Dean Lillie.
The Invitation Class is led by Jamie Augustine in the Daytona Coupe, ahead of the squadron of locally-built MARC V8 racers, led by the Jake Camilleri/Morgan Haber/Aaron Seton Ford Focus.
Momentum is starting to build towards the first race of the season for the Verizon IndyCar Series. Following a multi-team test at Sebring on Feb. 1, six more tests are scheduled this month as teams participate in outings scheduled by their respective engine/aero kit manufacturers, by the series, and for tests designed to give rookies their first runs in 2016.

Starting on Feb. 8 at Phoenix International Raceway, Chevrolet will log miles on the short oval with a total of seven drivers representing Ed Carpenter Racing, KVSH Racing, and Team Penske. Two days later, Chevy and Honda will conduct tests at two different circuits in California.
Four drivers from Chip Ganassi Racing, including new signing Max Chilton, and two from Team Penske, will run at Sonoma Raceway, and three Honda drivers, from Andretti Autosport and Schmidt Peterson Motorsports, will hit the big oval at Fontana.

Chilton has two more days scheduled (Feb. 13 at Fontana, Feb. 22 at Sebring) as part of his rookie testing schedule, and then the entire grid is expected to appear at Phoenix Feb. 26-27 for the "Test In The West" spring training event.

Add in a Mar. 1 test at Sebring for Rahal Letterman Lanigan rookie Spencer Pigot, and 14 drivers using Mar. 2 at Sebring as a final tune-up for the Mar. 13 season opener at St. Petersburg, and drivers should be prepared to get the 2016 championship underway.
"For me, it will be nice to do real live testing," ECR's Josef Newgarden told RACER. "We've done quite a bit of simulator work, which is great, but it doesn't compare to real testing—slinging the car around and sliding it. I think our team some fascinating things in the pipeline, and we'll put all of it to the test soon."

Newgarden's Chevy-powered team will test in isolation from Honda teams until later this month, and when both factions come together, new aero kit pieces and overall performance capabilities from the brands will come to light.

"Personally, I'm excited to go into a new season with the variables in the aero kits," he continued. "You have less of a chance to know where you stand right now when you're not out there with the Honda guys, but it also makes it exciting.
"Some aero kit stuff will be different from last year, and you'll have to keep your eyes open for little changes. And then we'll see how we stack up against everyone else in the Chevy camp. I'm trying to rest up right now because I know it's going to be really busy from now until St. Pete."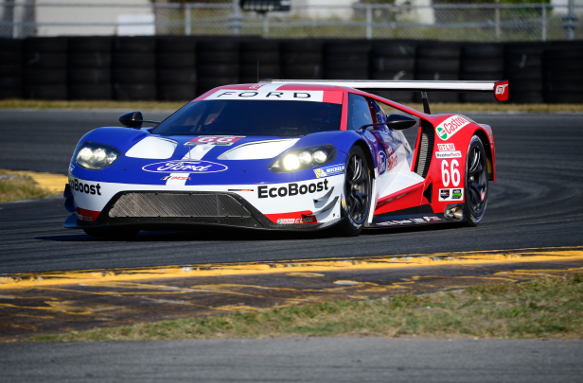 Four Ford GTs will race at the Le Mans 24 Hours this June on the 50th anniversary of the manufacturer's first victory at the French event.
The participation of the two GTs competing in the IMSA SportsCar Championship alongside Ford's World Endurance Championship cars was confirmed when race organiser the Automobile Club de l'Ouest published the 60-strong entry list for the 24 Hours on Friday.
The four cars entered in the GTE Pro class will all compete at Le Mans under the Ford Chip Ganassi Racing banner.
The cars have have been given the races numbers #66 through to #69 to recognition of the four consecutive years that Ford won at Le Mans with its Ford MkII, the MkIV and the GT40.
The drivers listed for the two US-entered Fords are Marino Franchitti (#66) and Olivier Pla (#67), and the pair in the two WEC entries being run from premises in the UK are Joey Hand (#68) and Ryan Briscoe (#69).
The entry will be 60 rather than 58 cars after the ACO brought forward its expansion of the pitlane. It had originally been intended to expand by two pits for 2016 and two for '17.
Porsche has also been allocated two entries in GTE Pro despite its withdrawal of its full-factory Manthey team from the WEC.
Two full WEC entries from each of the factory AF Corse Ferrari team and Aston Martin Racing, plus the two Corvette Racing Chevrolets bring the GTE Pro entry to 14 cars.
The LMP1 entry is headed by three pairs of factory cars from Porsche, Audi and Toyota. Porsche and Audi have downscaled their respective Le Mans campaigns from three to two cars, a joint cost-cutting move announced last November. They are joined by privateer P1 entries from Rebellion Racing and the ByKolles team.
A total of 22 LMP2 cars are on the expanded entry. The Manor team will be one of those after announcing an entry with driver Tor Graves. The entry includes reigning WEC class champion G-Drive Racing, which has moved from OAK Racing to the British Jota Sport team in a deal that incorporates one entry for an ORECA 05 in the full world championship and one Gibson in the European Le Mans Series.
Michael Shank Racing will field a Ligier-engine JSP2 with assistance from the car's manufacturer, Onroak Automotive.
European Le Mans Series entrant Greaves Motorsport has two entries, one for a Ligier and one for a Gibson, while it will also provide support for the Krohn Racing Ligier.
The Panis-Barthez Competition team will have an LMP2 entry at Le Mans run in conjunction with Tech 1 Racing. It will field both an LMP2 and LMP3 in the ELMS, with Barthez among the LMP2 drivers.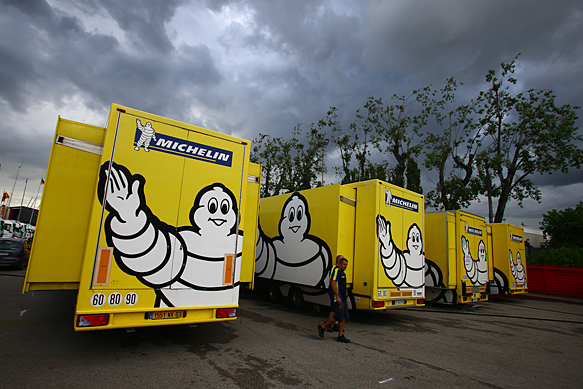 Michelin remains interested in returning to Formula 1 at the earliest opportunity despite losing out to Pirelli for the 2017-19 tire deal. But it is still adamant F1 would need to switch to 18-inch wheel rims if it came back.
Key to Michelin's proposal was a move away from the current 13-inch spec.
Michelin and current supplier Pirelli both passed the FIA's requirements in the tire tender for 2017-19, before commercial chief Bernie Ecclestone opted for Pirelli, which will keep the current rim size.
"We are still interested [in F1]," said motorsport director Pascal Couasnon said "We are not changing our position unless the series does not make sense anymore.
"If we can be relying on the spirit of a race which is a good mix of show and technology and we can demonstrate our know-how, that's fine. [But] they would have to move to 18-inch.
"We believe one day or the other, Formula 1 will have to move anyway. If you want to transfer technology from the track to the street, you need some similarity between the products."
The 2017 F1 technical rules package is not expected to be as revolutionary as first thought, but the target to make the cars faster remains. Couasnon believes a move to 18-inch tires would make lap times 1.5s quicker and be cheaper than aerodynamic adjustments to achieve the same feat.
"How much money does it cost to try and gain a second without tires when we can bring 1.5s with some modification?" he asked. "We provide very constant tires so when you test, you know that if there is a difference, it comes from a change to the car. So I maintain switching to Michelin costs less money than staying with competitors."
The Rolex 24 At Daytona has been responsible for some amazingly unforgettable sequences in recent years. Whether it was 1996 and Max Papis defying physics while pursuing Wayne Taylor to the finish, Tony Stewart coming close to winning in 2004 before a mechanical failure ruined his day, or Juan Montoya scorching the track whenever he was the closing driver, America's big sports car season-opener has authored some incredible snapshots of action and drama.
Knowing the Rolex 24's trend of producing an amazing 10 minutes of racing here, or 30 minutes there, processing and contextualizing last weekend's unrelenting 24-hour assault is a serious challenge: What happens when almost every class, throughout the entire race, produces impossibly good racing? Forget trying to find a single snapshot; it's easier to subtract the handful of hours that were boring than to try and digest the supreme awesomeness that took place during green-flag running.
Other than the 21 cautions that absorbed five hours, 10 minutes, and 29 seconds, the other 18 hours, 50 minutes, and 11 seconds made for some of the best competition I can recall in almost 30 years of watching or attending Rolex 24s. 2016 tops them all.
If you missed some or all of it as it happened, schedule the necessary time to watch and enjoy the insane battles that made the 54th Rolex 24 the new standard for endurance racing enjoyment.
BUT IF THERE WAS A 2016 SNAPSHOT...
It would be the Corvette Racing teammates ragging the living %$#@!* out of their C7.Rs on the way to a memorable 1-2 finish. How nasty and unyielding was the battle between Oliver Gavin in the No. 4 and Antonio Garcia in the No. 3? Both drivers set fastest laps for each car in the final 20 laps of the race.
After approximately 23 hours and 30 minutes of racing, courtesies were forgotten between Corvette teammates, and but for a few millimeters on either side of their C7.Rs, the torrid pace being waged meant a frighteningly small margin of error was at play. One slight miscue by either driver in a braking zone or while side by side could have ended Corvette's day in disaster and handed the win to Porsche.

The record-setting margin of victory - just 0.034 seconds - is what made the headlines, but I'd rate the driving performances by Gavin and Garcia on the way to the start/finish line as the most impressive feat as their battle raged.
"Those last 10 laps I was driving around thinking 'I have to pull this off somehow, and I've got to keep Antonio behind for the next 10 laps and do it fairly and cleanly,'" Gavin told RACER. "It was some of the hardest 10 laps I've driven. In a strange way, I was very calm about it. I wasn't anxious or thinking 'I can't screw this up.' I was trying to let it flow. And it worked for most of it... There were some points that boiled over. It was like that [finish] line kept going away from me, and all I wanted was for it to come closer."
Precision driving can be elusive after limited sleep. Gavin was able to unleash a final surge of adrenalin before taking over the No. 4 C7.R for the run to the checkered flag when Corvette Racing program manager Dough Fehan and General Motors vice president Mark Reuss offered words of encouragement.
"In the motorhome, I was tired and all the things you are at the end of a 24-hour race, and we'd just got the penalty with [No. 4 co-driver] Marcel [Fassler] so our side of the garage was done, and Fehan came and gave us a pep talk," Gavin added. "He said 'We can do this. A lot of the other guys are worn down, we've had the pace throughout the day, and we can do this. This is something we can really achieve.'
"Then Mark Reuss was sitting next to me and gave me a slap on the back and said 'We can do this,' and all the lethargy, all of the tiredness, it was all gone. You get into the car, you think about how Daytona is one of the biggest races in the world and, also, you think 'this is what I do. This is what I'm paid to do by the team, and it's my time to deliver.' And I did."
The Corvette 1-2 in GTLM with Gavin, Fassler, and Tommy Milner leading Garcia, Jan Magnussen, and Mike Rockenfeller follows the team's class win at Daytona in 2015, and adds to the 1-2 earned 15 years earlier at the 2001 Rolex 24.
FASTEST LAPS
How did the fastest race laps from 2016 compare to those set in 2015?
Of note, the fastest P2 car from 2015 used a larger Honda engine in 2016 (2.8L to 3.5L), PC was allowed to use a lower rear wing angle to increase top speed, the fastest GTLM car from both years was the same (although the 2016 class updates added more downforce), and in GTD, faster GT3 specifications were brand-new this year.
2015 Fastest Race Laps:
Prototype: Ligier JS P2-Honda, 1:39.576
PC: ORECA FLM09-Chevy, 1:43.248
GTLM: Corvette C7.R, 1:43.942
GTD: Ferrari 458 Italia, 1:46.994
2016 Fastest Race Laps:
Prototype: Ligier JS P2-Honda, 1:39.192 (-0.384)
PC: ORECA FLM09-Chevy, 1:42.850 (-0.398)
GTLM: Corvette C7.R, 1:44.012 (+0.07)
GTD: Lamborghini Huracán GT3, 1:45.873 (-1.121)
---
PULLING THE BULLS
The only thing missing from the five Lamborghini Huracán GT3s throughout the Rolex 24 were dragster-style parachutes at the back of the V10-powered bulls, and after the race was over, the only thing missing from the five bulls were their engines, courtesy of IMSA's technical department.
I'd heard from GT drivers in practice and qualifying about the ridiculous straightline speed advantage the Huracán's held, and those points of input came from inside GTD and GTLM programs. Looking at the timing and scoring data, the wedge-shaped Huracáns did indeed have a sizeable advantage, which stood out as rather odd due to its shared chassis and drivetrain platform with the Audi R8 LMS GT3.
Beneath the skin, Audi's new R8 LMS GT3 and the Huracán GT3 are almost identical, and from an outward standpoint, the two rakish coupes bear an immense similarity to each other. Built from the same platform, using the same V10 engine, and featuring comparable shapes that meet the wind, it would be odd to see either the Audi hold a distinct performance advantage over its twin, or vice versa, but that's precisely what happened at Daytona.
Of the 75 fastest GTD top speeds recorded in the race, 72 belonged to Huracán GT3s.
Draw your own conclusions, but it doesn't take much detective work to figure out IMSA's call to pull five Lamborghini V10s, and the V10 from Magnus Racing's race-winning Audi, looks like one engine is being used as the baseline (Audi) to measure the discrepancies with the rest.
If you're curious where the Magnus Audi's best top speed ranks from all the laps turned by GTD cars in the race, that one's easy.
Inside the top-100? Maybe the top-150? Try No. 1472.
PROTOTYPE ACCORDING TO PLAN...ALMOST
As expected, most of the P2 cars fell out, and for quite some time, DPs held total command of the 54th Rolex 24...also as expected. It was a Corvette DP 1-2-3-4 at one point, which fit the anticipated outcome after all the P2 hardships. The part that defied prediction was how the last P2 standing had the sheer pace and ability to overcome penalties as the final hours unfolded.
The high volume of cautions undoubtedly helped keep the No. 2 Tequila Patron ESM Ligier JS P2-Honda in the fight by mitigating a serious disparity with the time it spent on pit lane compared to the second-place finishers. Including pit stops and penalties, the No. 2 was on pit lane for 47min27sec, while the No. 10 Wayne Taylor Racing Corvette DP was stationary a full 5min35sec less (41min52sec total), which is approximately three laps at full speed.
Of the 13 entries in Prototype, five were P2s, seven were DPs, and the DeltaWing completed the grid. From the first six cars to retire from the race, three were P2s and the DeltaWing was taken out in a crash. Both Mazda P2s were out with engine-related issues, and then the Honda in Michael Shank Racing's Ligier JS P2 ventilated itself before we reached the halfway point.
It left the troubled SMP Racing BR01-Nissan, which fell back at the green flag, and ESM, to face the DPs. Even Action Express Racing, the kings of reliability, encountered a bizarre driveshaft issue that took the No. 5 Corvette DP out of contention.
The No. 31 AXR Corvette DP was fast, but rarely fast enough to trouble the leaders, and although the No. 90 Visit Florida Racing Corvette DP did manage to spend some time at the head of the class, ESM and WTR turned the race into a two-team contest as the finish grew closer.
11 hours in, the Prototype class had lost four of its fastest cars, and over the next 13 hours, just one P2 had a shot at winning. There's plenty of evidence to suggest P2s held the upper hand from the Roar Before The 24 through the Rolex 24, but if I look at the advantage held by DPs in 2014 and 2015, I'm not overly troubled by P2s finally having their day in the sun at Daytona. Stepping out of 2016, and looking at the three-year sample of DPs vs P2s at IMSA's biggest race, the record still falls 2-1 in favor of the tubeframe prototypes.
Someone's always unhappy in a series using Balance of Performance table to equalize its cars, and this time, it was the DP team owners with the deficit fell on their side.
RATINGS
TV ratings were more than solid for IMSA's WeatherTech Championship season opener. According to SportsTVRatings.com, the final two hours on FOX Sports 1 had 430,000 viewers, which isn't that far from what IndyCar recorded on NBCSN last year. The opening two hours on FS1 had 376,000 viewers, which is also encouraging. Figures from Saturday from 4-10 p.m. on FS2 (143,000), Sunday from 7:30-10 a.m. on FS1 (155,000), and 10:30 a.m.-1 p.m. on FS2 (168,000) were also listed.
---
THE PIPO SHOW
Pipo Derani's stirring drive to seal the victory for Tequila Patron ESM did little to help the Brazilian's profile immediately following the biggest win of his career. Leave it to the media - the group tasked with knowing about the players involved - to make the pint-sized 22-year-old feel even smaller during the post-race press conference.
Coming off a full-season campaign in the FIA WEC P2 category where Derani was the breakout star, earning one win and seven podiums, a reporter asked "Pipo, you had never been in a sports car race and you've never been in the United States; is that correct?"
Derani, visibly puzzled by the reporter's first question, responded "No, I did the whole WEC last year," before adding "but this is my first sports car racing here in America, and my first Rolex 24." It was a gracious reply in a moment where a harsh reaction would have been excused. I doubt Pipo will have the same problem next year.
At the other end of the spectrum, it's possible a few too many credited Derani for singlehandedly winning the race. He was certainly the deciding factor, but team co-owner Scott Sharp and Johannes van Overbeek shared in the heavy lifting and helped put Derani in a position to shine. No Sharp and van Overbeek, no win.
Taking nothing away from Derani, or his monster effort to close the race for ESM, it was clear he had the fastest car left in the field, and if the MSR Ligier-Honda held together, it's entirely possible Ligier-Hondas would have been celebrating a 1-2 on Sunday. Thinking back to all the IMSA races where DPs toyed with P2s, this was the first race since the new-look series launched in 2014 where DPs clearly had no answer.
Wayne Taylor's team put up a valiant fight, but they had issues of their own to deal with. It's doubtful Jordan Taylor, who was ill and complaining of a vibration over the radio in his final stint, was at 100 percent. Making matters worse, Angelelli, who took over from Jordan and brought the car to the finish, fought carbon dioxide poisoning from a broken exhaust header that required an immediate trip to the hospital after the race. They gave everything they had, but in normal circumstances, I'm sure they would have been able to sustain their charge with greater ease.
Granted, there's no way the two could have derailed Derani - even if they were at 100 percent - but I do believe it would have been less of a runaway result in the end.
There were 26.166 seconds between Derani and the ailing Angelelli when the checkered flag waved on Lap 736. Max lost 8.5 seconds in the last five laps, surrendering 5.3 seconds alone on the final tour as exhaust fumes filled the cabin.
From Lap 485 on, the lead was held almost exclusively by ESM or WTR, and with Derani chasing down Ricky Taylor to claim P1 on Lap 675, only a final pit stop exchange would temporarily unseat the Ligier-Honda from its dominant position.
"I know from my last stint, they were double-stinting tires and we could hang with them on that second stint," Taylor told RACER. "I got in and pulled out a 15 second lead on [Johannes] van Overbeek on older tires. Then Derani got in on fresh tires and pulled away by 10 seconds. When they went to new tires, they gave up five seconds on the opening lap, but made it up in spades the rest of the stint. I don't think it really mattered who was in the car. Derani's good, but I don't think he would have pulled away in a DP."
ESM's heavy reliance on Derani was a tactical masterstroke. The team's fastest driver in the field's fastest chassis/engine combination was lethal, and with the frenetic pace being set by the leading Prototype cars, team co-owner/driver Ed Brown only made a brief appearance in the driver rotation.
Per IMSA's timing and scoring data from the race, ESM complied with the letter of the driver ratings law by placing Brown in the car to satisfy the minimum requirement. Brown turned four laps (two run under yellow, two under green, from Lap 369-372) for a total of 13 minutes and 50.5 seconds, and left the rest of the race to the trio of Sharp, Derani, and JvO.
"That was not necessarily our intent," Sharp said. "It was a cutthroat part of the race. At that point, things were very aggressive, and coming out of the night into a heated restart, Ed decided it would be more advantageous to put him in later at a more relaxed point, and it just never happened. It was total dogfight to the finish."
I'll admit I didn't expect a P2 car to survive long enough to win the race, and the only other P2 running at the finish, the BR01, was 119 laps down and sank like a rock from the moment the race began. Chased home by five DPs, ESM, Ligier, and Honda deserve a lot of credit for breaking the DP Rolex 24 win streak at 12.
If we're lucky, we'll get to watch Derani, the Taylor brothers, the AXR drivers, and other assassins throw down in more equal equipment 12 months from now.
THE LAUGH FACTORY
At times, it felt like IMSA headlined three days at the Daytona Comedy Club. Starting Friday in the Continental Tire Series where the race-winning ST dealt with a door that fell off during a pit stop, the laughs continued on Saturday during the Rolex 24 when Scuderia Corsa's No .63 Ferrari 488 got in on the act, too, as its left-side door came unhinged during a pit stop.
And not to be outdone, Patrick Lindsey completed the longest lap in Rolex 24 history on Sunday when he took the infield back to the garage (which took forever) and had the media center in stitches as he shared the experience soon after arriving at his destination. It's not as if the weekend was lacking in fun, but these three instances of unintentional comedy made the 2016 even better.
---
MAZDA MADE GOOD
Finding shortcuts to achieve full reliability with a new engine is rarely an option at the Rolex 24, and as gut-wrenching as it might have been for the SpeedSource team - and Mazda executives - to see both of its P2s parked before sunrise, promise was shown.
Mazda's speedy new gas-powered engine did not disappoint when it came to posting impressive lap times, and even with two engine-related problems ending its day, the brand has become a legitimate concern for the rest of the Prototype class.
It might take a few more races before Mazda's full might is realized, but if Daytona confirmed anything, it was the Soul Red P2s now belong at the front of the field. Compared to the last two seasons, that's a refreshing change of reality.
DATA DIVE
The race is over an all we're left with is numbers to crunch in search of how each team or car model performed.
By averaging the 10 fastest race laps from the following cars and classes, we get a window into the relative pace each had to offer. Knowing the end results after 24 hours, it could also help to answer why some entries thrived and others struggled.
Prototype (Team or car # in brackets):
Ligier-Honda P2: 1:39.657 (ESM), 1:39.705 (MSR)
DeltaWing: 1:40.113
Ford DP: 1:40.280 (02), 1:40.332 (01)
Corvette DP: 1:40.556 (WTR), 1:40.612 (AXR 31), 1:40.659 (AXR 5), 1:40.971 (VFR)
Mazda P2: 1:40.677 (55), 1:43.107 (70)
BR01-Nissan P2: 1:41.275
GTLM:
Corvette C7.R: 1:44.267 (3), 1:44.705 (4)
Ferrari F488 GTE: 1:44.807 (72), 1:44.819 (68), 1:45.245 (62)
Porsche 911 RSR: 1:44.829 (912), 1:44.889 (911)
Ford GT: 1:44.908 (67), 1:45.134 (66)
BMW M6 GTLM: 1:44.918 (100), 1:44.957 (25)
GTD:
Lamborghini Huracán GT3: 1:46.224 (11), 1:46.358 (16), 1:46.617 (48), 1:47.012 (28), 1:49.054 (21)
Porsche 911 GT3 R: 1:47.456 (30), 1:47.561 (22), 1:47.599 (540), 1:47.612 (73), 1:47.642 (23)
Audi R8 LMS GT3: 1:47.617 (44), 1:48.012 (6), 1:48.708 (9)
Aston Martin Vantage GT3: 1:47.621 (98), 1:48.122 (007)
Audi R8 LMS: 1:47.664
Ferrari F458 Italia: 1:47.911 (51), 1:48.032 (63)
Dodge Viper GT3-R: 1:48.062 (93), 1:48.086 (33)
BMW M6 GT3: 1:48.222 (97), 1:48.398 (96)
PROBLEM CARS
What a dumpster fire. Winning the Rolex 24 often requires out-lasting the opposition, which is precisely what John Church and his JDC/Miller Motorsports team and driving roster achieved. They were the best of the eight ORECA FLM09-Chevys in attendance, and survived an overnight crash to claim the team's first IMSA win on the series' biggest stage.
It's how the rest of the PC cars and drivers fared that made the class a thorough disappointment for most of the 24 hours. Starting with the bizarre blown engine that meant five-time PC champs CORE autosport were the first out of the game, one of the Starworks PCs and the Performance Tech PC joined them in early retirement, leaving five cars to represent the class.
Problems (or crashes) struck every PC team at some point, giving JDC/Miller a four-lap advantage over second-place and nine or more laps to the rest of the competition with plenty of time left on the clock. Three of the four classes went down to the wire on Sunday; only PC failed to impress.
Attrition made PC a snoozer, but that doesn't mean the class lacked interesting themes. Along with JDC/Miller drivers Stephen Simpson and Chris Miller, IMSA saw two of its Prototype Lites champions combine to score wins (Kenton Koch and Misha Goikhberg), and as Koch explained after the race, the win was dedicated to his mother who underwent a heart transplant before last year's Rolex 24.
"It did feel very special to put a win on top of this one year anniversary," he said. "For those of you who didn't know, my mom was recently a recipient of a heart transplant a little over a year ago, and last year's Rolex there was a bunch of support out there that wanted to show their love and their support because it's a pretty big procedure, and now she's here and she's actually out walking our dog, whereas before she was struggling a little bit. Everything is going good now. It's really awesome to have her here and be a part of this win with this amazing team."
Each winning driver at the Rolex 24 receives a watch from the manufacturer. Asked if he'd give the Rolex timepiece to his mother, the young Californian had a surprising answer.
"Oh, man, now you make me feel bad for saying, no, I won't give her my watch," Koch said with a laugh.
---
SNOOKERED BY STRATEGY
Fans of the Audi and Lamborghini brands went for a ride on an emotional rollercoaster in the final minutes of the race. It took a brilliant piece of strategy set in motion by Magnus Racing to triumph over Konrad Motorsport, and of all the classes in the race, GT Daytona was the one where the chess pieces being moved on pit lane had the greatest impact on the final outcome.
Speaking with Audi Sport Customer Racing North America's Brad Kettler, the veteran engineer says he was impressed by all involved at Magnus to move its Audi R8 LMS GT3 ahead of Konrad's Lamborghini Huracán GT3, and singled out Magnus driver Rene Rast and team strategist Lars Giersing.
"Rast's efforts to save fuel over the final stints allowed the team to survive, and it was the call made by Lars that doomed the Konrad Lambo long before the tank rand dry," he said.
"Going off the last stop, they cars were within one lap of each other, Rast had a 35 second cushion to surrender, the Lambo chased, burned fuel, Rast was slowed to save fuel knowing the Lambo would likely burn extra, the Lambo coughed, and Rene had just enough to make it.
"Rene was going so slow, but it was part of the strategy. He did just enough to stretch his tank and the Konrad guys did everything we'd hoped; they took the bait and went after Rene. That kid held his composure and didn't panic when the Lambo blew by, but then they choked. What a great result."
Rast, team owner John Potter, Andy Lally, and Marco Seefried took the win as the No. 540 Black Swan Porsche 911 GT3 R came within 3.048 seconds of stealing the victory, and according to Kettler, it's a minor miracle the Magnus R8 didn't finish second.
"It only had a liter of fuel left!" he exclaimed. "Rene had the low-fuel alarm before the last lap, and by that point, you're hoping you'll make it to pit lane. He got another lap out of it, which is incredible."
THAT CRASH
The crash that claimed the DeltaWing DWC13 (and added significant damage to the stationary No. 8 Starworks Motorsport PC piloted by Chris Cumming) should serve as the inspiration for Daytona International Speedway to add an early warning system for cars rounding the corner into the blind braking zone for Turn 1.
With Cumming's sitting in the middle of the track - out of sight for cars coming into the braking zone to after reaching speeds of 170-195 mph - drivers must rely on radio transmissions from their teams and yellow flags waving from corner workers to prepare for whatever's ahead.
Radio interference kept DeltaWing driver Andy Meyrick from hearing the warnings shared by his team, and while there was at least one yellow flag waving around the bend on Meyrick's left, I can't help but think an overhead early warning light - prior to the blind bend - would all but guarantee drivers have plenty of notice.
Sonoma Raceway went to a similar early-warning system with its blind Turn 3-3A section to try and prevent more crashes like the one Will Power suffered when he crested the hill and found another IndyCar sitting sideways in his direct path. The damage to the Australian's back in the impact sidelined him for the rest of the season. We're fortunate Meyrick and Cumming were uninjured.
FORGETTABLE FOR FCGR
Watching both Ford GTs fall victim to a variety of problems was far from unexpected for a new racecar. It was only natural to root for a Corvette vs Ford scrap throughout the GTLM race, but it would have taken a miracle for the GTs to stand up to the battle tested C7.Rs throughout their racing debut.
Knowing Ford, Chip Ganassi Racing, Multimatic, and Roush Yates Engines, the badass little coupes will be back for a better demonstration of their capabilities at Sebring.
What was a bit of shock on the Ford Chip Ganassi Racing front were the maladies and driving errors that took its pair of EcoBoost DPs out of contention. Outright speed wasn't the only attribute to elude the defending race winners; durability was also absent which caused numerous trips to the garage. Engine overheating, gearbox issues, and a lack of rear brakes were among the problems to sideline the FCGR DPs, and to make matters worse, Kyle Larson flattened the front of his car late in the race when brake issues resurfaced.
With such lofty expectations across all four FCGR cars in GTLM and Prototype, the No. 01 DP (P5) was the top finisher from Ganassi-land, despite being 11 laps behind the overall winner. Along with the No. 02 DP (P13, -28 laps), No. 66 (P7 in GTLM, -32 laps to the GTLM winner), and No. 67 (P9, -162 laps), the 54th Rolex 24 must have left the team with little satisfaction.
Given CGR's great history and number of overall wins since entering its first Rolex 24 in 2004, will Chip be satisfied to leave the top class on a low note and concentrate solely on GTLM in 2017?
MISCELLANEOUS
• How much fun was it to see Katherine Legge drop the hammer in the DeltaWing and lead with authority?

• 2014 24 Hours of Le Mans P2 class winner (and former Nissan P1 factory driver) Harry Tincknell held a few meetings with Prototype teams at Daytona. The young Briton would add some electricity to a class that's already packed with talent.
• What a great story with Andy Pilgrim and Black Swan Racing team owner Tim Pappas. Pappas was the first owner to show interest in Pilgrim after he was dropped by the Cadillac Pirelli World Challenge team, the two spoke, quickly came to terms, and nearly won GTD on their first outing. Also, wasn't the livery on the No. 540 BSR Porsche simply stunning?
• A full contingent of visiting dignitaries from the ACO, WEC, and PWC were present at Daytona.
• Adding to the list of attendees from other series, IndyCar had six people onsite to cover its open-wheel stars participating in the Rolex 24.
• Finally...my favorite random piece of news to come from last weekend? Stevenson Motorsports driver Dion von Molke wants to give Global Rallycross a go. Considering how well Audi LMP1 and Action Express DP driver Filipe Albuquerque did when he gave GRC a try, DvM could find a new calling...
Tony Stewart has been ruled out of the start of his final season in Sprint Cup following confirmation that he sustained a fractured vertebra in a non-racing accident last weekend.
Stewart-Haas Racing has confirmed that Stewart suffered a burst fracture of the L1 vertebra when he crashed an ATV while vacationing on Sunday.
He was transported to a local hospital following the accident and evaluated. According to the team, he was awake and alert throughout the process and able to move all of his extremities.
Stewart then flew to North Carolina Tuesday evening and was admitted to a Charlotte-area hospital for further evaluation. On Wednesday, he underwent surgery.
The subsequent recovery period means Stewart will miss the beginning of the Sprint Cup season. A timetable for his return has not been determined, but he is expected to make a full recovery and return to the No. 14 Chevrolet in 2016. Plans for an interim driver have not been finalized.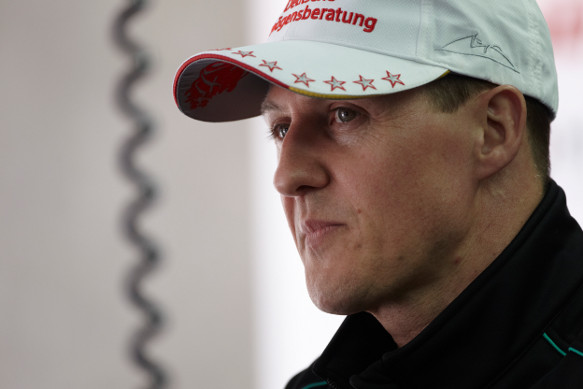 Former Ferrari president Luca di Montezemolo says the latest news about the health of seven-time Formula 1 world champion Michael Schumacher "is not good".
It is more than two years since Schumacher sustained severe brain injuries following a skiing accident in the French Alps.
"I have news and unfortunately it is not good," Montezemolo told reporters, but did not elaborate. "Life is strange. He was a fantastic driver and only had one accident with Ferrari in 1999."
Last October, FIA president and close family friend Jean Todt said Schumacher "is still fighting".
The German spent a number of months in intensive care in Grenoble hospital before regaining consciousness. He was then moved to a hospital closer to home in Lausanne before returning home in early September 2014. Since then, there has been little information revealed about the 46-year-old and his recovery.
The last official statement from Schumacher's management came in September 2014 and said the German faces a "long and difficult road ahead".
Subscribe to Racer
The RACER Poll
The design for the driverless cars for the 'Roborace' series could be unveiled soon. What do you think of the concept of a series for autonomous race cars?
Video: The Champions Issue
The Champions Issue is on sale now. Click here for more information.
Race Cars For Sale
FROM THE RACER CHANNEL ON YOUTUBE
Ryan Millen on going faster than ever.

See more than 50 On Board videos.

Honda Racing / HPD Videos
24 hours of racing offers plenty of excitement, but nothing beats being 1st overall at the end.
Like us On Facebook
Twitter Feed