Wolff: No room for failure
Date:
Tuesday, 12 February 2013
Toto Wolff accepts that he has no margin for failure in his new role as Mercedes motorsport boss even though he only joined the company at the start of the year.
In that time Wolff has already had to calm reports that Mercedes was planning to remove team principal Ross Brawn in favor of a new structure led by himself and McLaren technical director Paddy Lowe. Despite not having a direct input in the team's 2013 W04, Wolff insists he will not have the luxury of shirking responsibility should last year's slump not be rectified.
"It is all about having your neck on the line," Wolff told F1.com. "As they [Mercedes] know I have put my neck on the line, they know that I have no room for failure.
"Not only have I taken a personal risk by leaving Williams – where I have enjoyed working – but there is also a financial and economic side to it. I could say as much as I like that I had no involvement in the 2013 car – which is actually the truth in terms of car performance – but that doesn't count.
"I have been here for two weeks but nobody cares whether I've been here one year or one week. I know that Mercedes' standard is to be a top team and if it is not the case, then obviously it is going to be difficult to justify what I do."
Wolff said that he would take time to understand Mercedes' current structure before implementing changes, and that he would class the F1 season as a success only if the team can secure a top-four finish in the 2013 constructors' fight.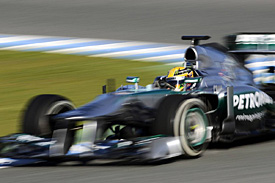 "If the team finishes in the top four and is a regular front-runner, [that would be a good year]," he explained. "I have taken up the responsibility so it is important to get a feeling for the people. Power is not the issue – understanding the structure and making the right decisions is the core.
"I will do everything it needs to make this team successful. First it is watch and listen, and then I will give my opinion and execute my opinion.
"Now I've slid into a fully operational role sitting in the ejector seat. The good news is I have the trigger in my hand and I would have never have got involved in something that I believed I couldn't do."