No more false promises, says Caterham
Date:
Wednesday, 13 February 2013
Caterham Racing F1 boss Cyril Abiteboul has vowed to instill a new culture of realism at the team.
After three seasons in Formula 1 that have not lived up to expectations, Abiteboul concedes Caterham (formerly Lotus) has over-promised in the past. Abiteboul, who was promoted to the role of Caterham Racing team principal last September, believes 2012 drivers Heikki Kovalainen and Vitaly Petrov were among many people that Caterham "let down" with previous bold statements.
"The relationship with our [previous] drivers was good, but I think to some extent we let them down," Abiteboul said. "We disappointed them just like we may have disappointed the public – the fans, the followers on Twitter, because maybe we made some promises, representations of where we wanted to be, but maybe not exactly where we were expecting to be or being realistic about where we would end up being. We have not made any representation that we will be fighting in the middle of the midfield at the first race to anyone [this year]. That is something we have been very clear about."
For 2013, he believes that the team should look to capitalize on every opportunity that comes its way but thinks that points will only come if it is lucky.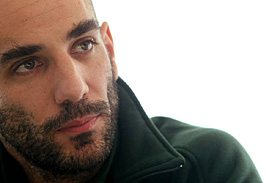 "I want us to make sure that we perfectly understand all that is happening on track, which is a big change from last year," added Abiteboul (LEFT). "I want us to be fully in control of why something is working or not working.
"I also want us to make sure that we seize any possible opportunities, including opportunities to score, because that is something that at some point of the season – not for the first races, but at some point – might happen.
"We might be able to catch the midfield on merit and, when there is enough activity going on on track, score a point. Scoring a point on merit is not something that is going to happen this year, but scoring a point when something strange is happening is not something that can be ruled out."