Williams: Bottas is not a rookie
Date:
Thursday, 14 February 2013
Valtteri Bottas is effectively not a rookie driver heading into his debut season racing in Formula 1, according to Williams chief race engineer Xevi Pujolar.

The Finn drove Bruno Senna's Williams in 15 Friday practice sessions last year and has been on the team's books since 2010, meaning that despite his inexperience, he has the air of a more experienced driver. This is reflected both in his pace and the quality of feedback that he gives to the team, according to Pujolar.
"Because he has been with us for a long time and because he has done a few Friday sessions, we know him well," Pujolar said. "We don't feel like he is a rookie. His feedback is good as well."

Pujolar believes that the combination of Bottas and Pastor Maldonado means they will push each other on to greater heights during the season. The Spaniard was Maldonado's race engineer in 2011-12 before his promotion and he's also hopeful that the two car crews will push each other during the season.

"Pastor improved a lot toward the end of last year and Bottas, when we was in the car, showed he had good performance," he said. "If he performs this way, it will be good to have both pushing each other, and the two car crews so that there can be a competition in the team all the time that we are working together."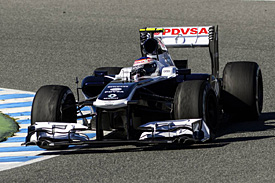 Last week's Jerez test, during which Williams ran last year's FW34, was Pujolar's first active duty as chief race engineer. He believes that the experience gained there will be invaluable heading into the season.

Both race engineers have also changed, with Andrew Murdoch promoted from data engineer on Maldonado's car and Jonathan Eddolls making the same move on the sister car.
"The test was very important because I'm in a new role and a few other people in the team have a new role as well," said Pujolar. "In terms of new faces, there aren't many, but everybody is in a different position. "It's important to get up to speed in the new positions."